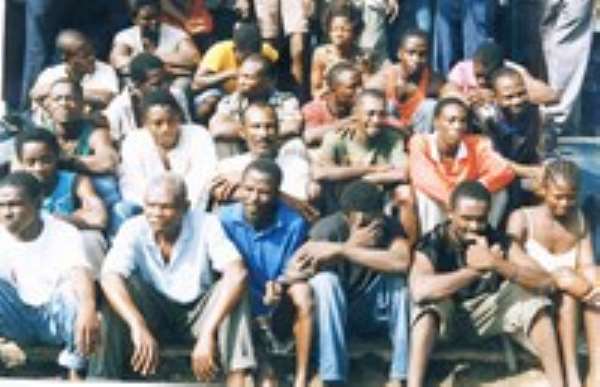 The Suspected Criminals
FOUR separate swoops on Monday by personnel of the Accra West Police Command on a number of cemeteries around Kaneshie, Accra, resulted in the arrest of 35 suspected criminals.
Most of the suspects were arrested at the royal tombs and tree tops in the cemeteries they have made their abode.
Police found various items including cooking utensils, suitcases, clothes, mats, knives, bottles of kerosene and some livestock.
Chief Superintendent Fatima Fuseini, the Divisional Commander, told the Times that the suspects were believed to be involved in drug peddling, rape, mobile phone and bag snatching.
She said the criminals used the cemeteries where they smoked Indian hemp and other narcotic substances in order to get "high" or "charged" before attacking their victims.
"This is the modus operandi now. At the cemeteries, they pretend to be attending to nature's call and then attack unsuspecting passers-by. You know, people would never ever suspect that where the dead have been buried to rest, the living would use it as bases for criminal acts."
The police team arrested two other people at the Asere Royal Cemetery smoking Indian hemp. The two, James Laryea, a caretaker at the cemetery, and Yaw Mensah, a mason, also had in their possession a plastic pipe suspected to be used for sniffing cocaine.
The team also discovered that Laryea had started cultivating Indian hemp in his onion farm at the cemetery.
Four of the suspected criminals were arrested in a slum behind the Awudome Cemetery while a young man was picked at the Ankrah Family Cemetery near the Azumah Nelson Sports Complex.
Chief Supt. Fuseini said the four men who lived in wooden structures behind the cemetery, would also be charged for engaging in illicit sexual activities for attacking and raping unsuspecting females who use that route.
Eight men were arrested behind the Piccadily Biscuit Factory smoking Indian hemp whilst the rest of the 35 including five women, were arrested at some flash points within the Accra West District.
Chief Supt. Fuseini advised the public to be very careful when walking around cemeteries and other dark, secluded areas in the evenings.
"If you see people in dark dresses around such areas, run for heaven's sake," she stated.