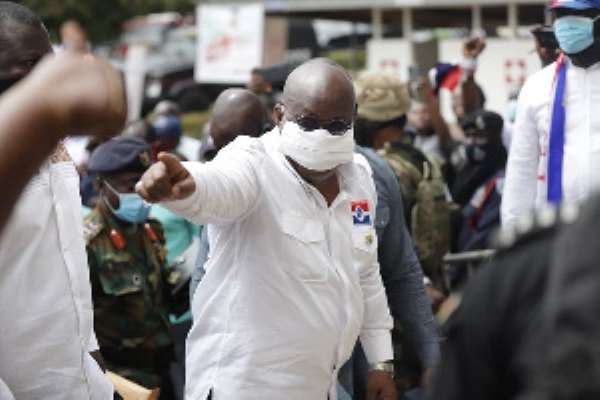 The aspiring Member of Parliament (Independent) for the Bekwai Constituency in the Bekwai Municipality of Ashanti, Lawyer Akwasi Amofa Agyemang, has stated that he is working hard to ensure that the constituency records one of the highest votes for President Akufo-Addo in the upcoming December polls.
Nana Akufo-Addo polled 51,769 votes (88.61%) in the 2016 presidential elections but Lawyer Amofa Agyemang has said the votes for the President in the December polls would soar above 95%.
He explained that the best thing which is happening in the Bekwai Constituency now is that both the incumbent Member of Parliament (MP), Lawyer Joseph Osei-Wusu and his good self (Lawyer Amofa), are all campaigning for the re-election of President Akufo-Addo as each of them seeks the mandate of the electorate in the Bekwai area.
He said while he seeks to poll over 50, 000 votes from the 173 polling stations to annex the Bekwai seat in a landslide victory so would the President amass votes as indicated in a survey.
The Independent Candidate indicated that even the Zongo communities in the area which are perceived to be predominantly sympathizers of the opposition NDC are gradually identifying with his vision and have promised to vote for him.
He said he is campaigning in every nook and cranny of the constituency in order to maximize lots of sympathy votes for the president and himself in the 2020 general elections.
Even though considered as one of the strongholds of the ruling NPP, the opposition NDC managed to obtain over 8,000 votes from the First Deputy Speaker of Parliament's backyard during the 2016 general elections.
The vibrant and confident looking Lawyer Amofa-Agyemang said he will introduce an annual leadership conference and a monthly dialogue clinic to brainstorm and strategize on issues affecting the constituency when he wins the Bekwai seat t bring about a real change in leadership.
Outlining his vision for the people of Bekwai Constituency Lawyer Amofa-Agyemang emphasized that sometimes people do not need huge sums of money to start businesses or learn a trade. He recounted how he had to help a desperate parent procure a sewing machine for a daughter to learn a trade.
The MP aspirant also hopes to create a seedling centre in the constituency for nursing hybrid mango, coconut, palm-nut and cocoa seedlings to begin cash crop cultivation as a way of supporting the youth and peasant farmers in the area to become self-sufficient as well as championing the government's planting for food and jobs agenda.