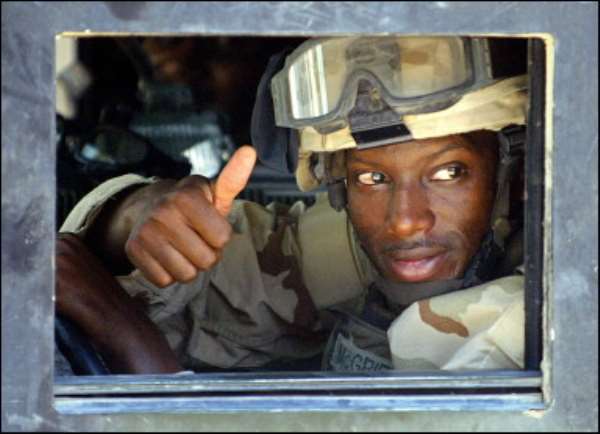 Credible reports reaching the news desk of the Free Press indicates that the soldiers who were detailed to keep vigil over the royal Gbewaa Palace in Yendi, in the wake of the gruesome murder of the King of Dagbon, the late Ya-Na Yakubu Andani II, have turned the Palace into brothel, violating its sanctity.
Free Press painstaking investigations into the horrible experiences of the commercial sex workers who play their trade in the Yendi Township with the Royal Gbewaa Palace being the prostitution arena had the solders as their potential clients.
It was further gathered that the heavily armed security personnel had since been wining and dining with the prostitutes in the area where the royal Gbewaa Palace had been turned into a house of prostitution.
An informant, Lamisy Nana Ama, a prostitute told the Free Press in a telephone interview over the weekends that the soldiers at the Gbewaa Palace in Yendi were engaging themselves in prostitution with the commercial sex workers in the area parading themselves at the palace.
According to Lamisy, the soldiers refused to pay for sex after they had satisfied their sexual zippers at the Gbewaa Palace, adding that: "more than four soldiers could rape a prostitute for several times."
Alleging, she said that she remembered with trepidation the clumsy tactics being employed by the soldiers to lure prostitutes to the Gbewaa Palace, noting that she personally had a violent confrontation with three soldiers at the palace when they attempted to forcibly have sex with her.
She said that, "after one of the three soldiers had removed my panties, inserted his long penis into my genital system and ejaculated therein, another soldier joined in toe have sexual intercourse with me but I refused the third soldier entry to my vagina since the first two soldiers did not pay me."
She lamented that the immoral act of the soldiers had made it possible for the prostitutes to gain entry to the Gbewaa Palace in Yendi which had been in contention. Asked how many prostitutes patronized the "sexual services" of the soldiers at the Gbewaa Palace, Lamisy said that, her professional working colleagues who plied their trade at the royal Palace were as many as driver ants.