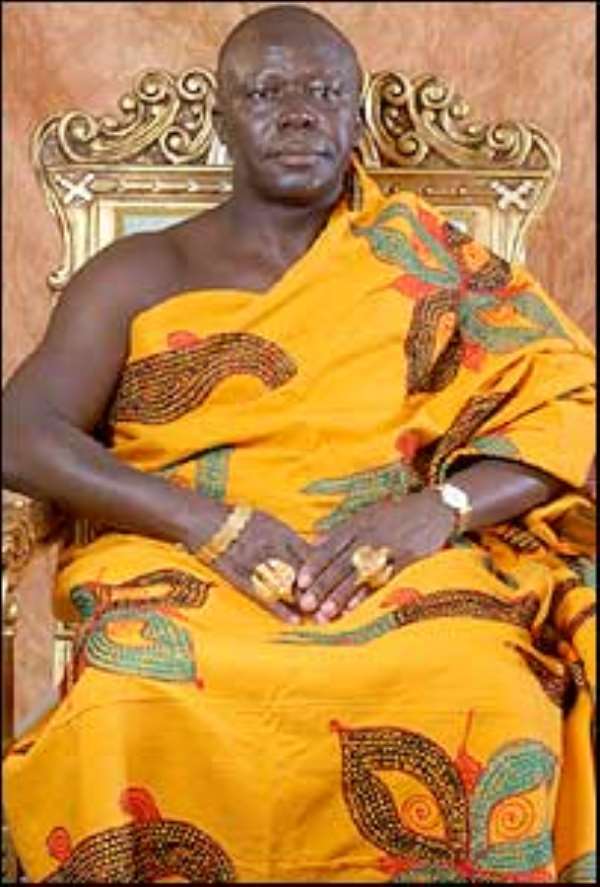 Otumfuo Osei Tutu II, the Asantehene, has advised the two main gates involved in the Dagbon crisis- the Andanis and Abudus-to return to Yendi and follow the road map to peace that was drawn up earlier in the year.
The two leaders who represented the groups at the meeting were the Gukpi Na, Abdulai Ziblim Abdulai, who is head of the Andani Gate, and the Nanto Na, Alhassan Zule who is also head of the Abudu Gate. The Northern Regional Minister, Alhaji Mustapha Ali Iddris and the Head of the Bureau of National Investigations (BNI) in the Northern Region were present at the meeting. There was heavy security presence at the Manhyia Palace where the meeting, which lasted for more than four hours, was held.
Otumfuo said, now that the first step on the road map has been completed, the leaders of the two gates should ensure that they follow the other steps to enable peace to prevail in Dagbon. Both leaders agreed to go by the advice given by the Asante king. The Otumfuo said the leaders must keep in touch with Manhyia to update him on the happenings in the Dagbon kingdom and the Northern region as a whole. Another meeting has been scheduled for next month. Meanwhile, Otumfuo has since left for Libya as a special guest of that country as she celebrates her anniversary.
Last weekend, a youth group purporting to belong to the New Patriotic Party surged on the ruined Gbewaa Palace that used to be the residence of YaNa Yakubu Andani who was killed in a clash between the two Dagbon gates. The group, said to be also made up of the Abudu family, exchanged fire with the police who tried to prevent them from entering the premises- resulting in the death of three members of the group.
The latest clash, which had the potential of rekindling the age-long skirmishes of Dagbon, prompted the Asantehene to summon the representatives of the two gates for a peace talk. Otumfuo Osei Tutu had, in fact, been leading three eminent chiefs in finding sustainable peace in the northern region's troubled area.
After months of delicate discussions with the stakeholders, Otuomfuo's mediating team came up with a 'road map' to peace for Dagbon. It was this map the he referred the representatives of the Abudus and the Andanis to go back and continue implementing to avoid renewed conflicts.