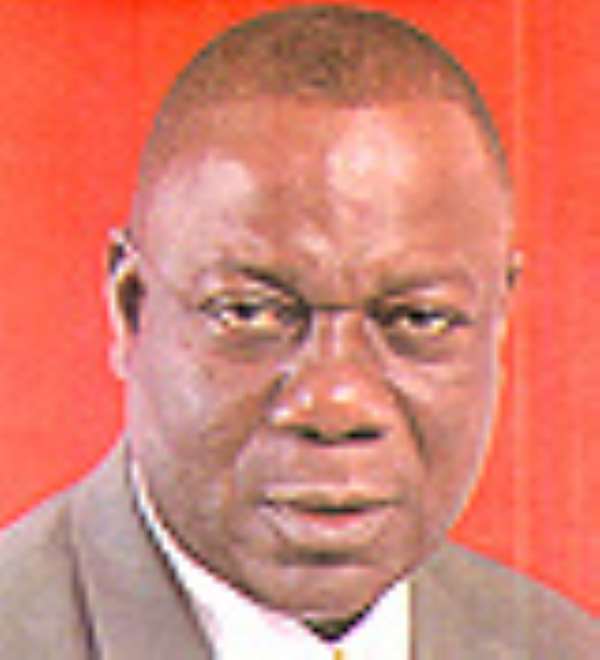 George Aggudey-CPP
Snippets of information gathered indicate that the defeated candidate of the Convention People's Party in the 2004 presidential election, George Aggudey, has illegally kept two party vehicles in his possession for the past two years and is using them for his private business.
The two vehicles, donated by the Electoral Commission to the party, have been in George Aggudey's possession since 2004, as he refused to release them to the party.
The I.E.A, and at times the Electoral Commission, make available a number of vehicles for competing political parties and, after elections, the vehicles are retained by the parties to undertake their activities.
Some of the top notches of the party have impressed upon the defeated flagbearer to release the vehicles to be used for party activities, but Mr Aggudey has met this with reluctance.
A source within the party said that this buttresses the fact that the party leadership is not good enough to win political power in the next election.
"For two years, those cars have been parked in his house and he is using them for his private business and not for the party's activities as expected. If you ask him(Aggudey), he says the EC gave them to him.
"It is under the prerogative of the party that they had those cars so they are expected to revert to the party," the source said.
Confirming the information, the source said that the fact that the party vehicles were not painted in party colours goes to show that the ulterior motive that some of the officials of the party have in mind.
"Why is it that none of those cars have been painted in the colours of the CPP? Look at the NPP and NDC vehicles; have they not been painted in party colours?" he asked.
The source, who wants to remain anonymous for now, cited also the National Youth Organiser of the party, J.B Daniels, as a party official who is also making private use of another car belonging to the party.
"J.B Daniels has been using a party vehicle to ferry timber for his private business in his hometown. Why should that be so when we have leaders in our party? We are aware of this situation," he stated.
However, efforts to reach Mr Aggudey proved elusive as his cell phone was either switched off or out of coverage area.
When contacted, the General Secretary of the party, Prof. Nii Noi Dowouna, denied knowledge of the cars.
"I don't know anything about I.E.A giving vehicles to any party. I can't comment on that," he said