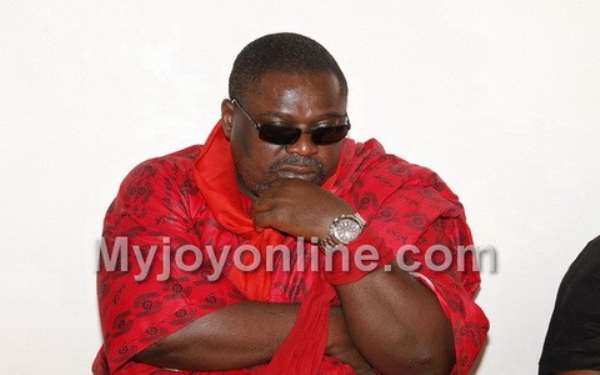 I really want to know how the tiger was tamed in the crib.
IT seems Koku Anyidoho is carrying his battle with 'babies with sharp teeth' to the bitter end. The former deputy general secretary of the opposition NDC had alleged in a tweet yesterday that he was tortured for more than eight years by those guys that once held power.
This is what he wrote:
"The babies with sharp teeth have tortured me for more than 8 years. Let GOD punish them."
It reminds me when we battled our enemies at Dodowa, Feyiase and Adamanso. We didn't whine.
We didn't retreat. And we didn't run away with the tails in between our legs. We fought the good fight.
So,, Koku, do us a favour, if thy can't teach the tongue to say: 'I don't know,' then give us a break.
We've heard enough from Papa no. Enough from Allotey and enough from you. Converts or Born-Again Christians don't pursue their old enemies. They forgive them.. They preach the good news.to the world.
Remember Saul, who was later christened Paul?
When did you hear Kwabena Agyei Agyepong rant and curse Freddy Blay? Or Paul Afoko evoke Antoa against Mr. Asomasi? Please tell us,, how and why were you tortured? Were you tortured emotionally, physically or psychologicallly? And of course, who are these 'babies with sharp teeth' that tortured you for almost a decade?
Indeed August without drama is like a day without sunshine. And I'm pretty sure the months ahead will produce perhaps more dramatic events. It isn't unusual. Simply, things get twisted during electioneering campaign season. But mind you, we aren't swallowing anything that's deemed concocted.
I'm wondering though whether those babies still have teeth to bite after power ran out of them nearly four years ago. Knew ye not that NDC is currently being bludgeoned by the ruling NPP so why are you kicking the can down the road? And Koku, I'm still wondering whether you think this is the right time to settle scores or draw a line in the sand!
Would Koku ever let go?
We might not get to know the answer. But what seems obvious is the strained relationship between Koku and his perceived enemies. And I suspect that bad blood might even include the party's flagbearer--Mr.Mahama.
According to the chief executive officer(CEO) of the Atta Mills Institute, such persons have caused him more pain in the last eight years than anything else in this world.
Reactions
His outburst has since attracted varied comments from social media users. A user praised Mr. Anyidoho and also encouraged him to stay the course. But, another was very critical of him.
"Your arrogance and pompous behaviour especially during your time with the late President Atta-Mills is cause. Besides, your criminal activities including supplanting yourself as de facto chief of staff and lese-majesta while forging and signing sensitive documents on behalf of the then-president knowing very well he had sight problems, that made you more enemies than friends."
In July this year, while speaking on Asempa FM an Accra-based, radio station Koku lambasted persons who he claimed tell lies about him. He called them "scoundrels."
"Now, I am speaking today as an anointed son of God, and I am speaking from the footstools and the throne of Heaven's. All scoundrels shall rot in the hottest part of hell because Scripture has said so."
..They have a chance to repent because we have all sinned and fallen short of the glory of God. If they repent, for now, it is good for them. But if they continue in their perfidy, when we are in heaven after the rapture, they will ask me for a drop of water and they will not get," he concluded.
By Gordon Offin-Amaniampong