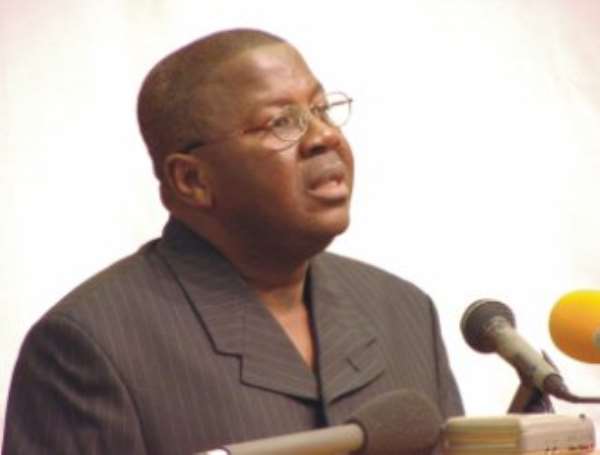 His Excellency the Vice President, Alhaji Aliu Mahama has lashed out at irresponsible elements in the society that have turned radio into a platform fro trading insults.
One notable example of such an individual is the Member of Parliament for Assin North Hon. Ken Agyepong's trade mark and major stock in trade is how much insults and invective he can spew on radio on any given day.
Alhaji Mahama has lamented that the recent scourge of insulting language coming from most people featuring especially on the electronic media is very disturbing.
In statements that best portrayed the character of the Member of Parliament for Assin North, Alhaji Mahama said the use of insulting language on the electronic media against perceived adversaries would not assist Ghana in its bid to inculcate into the youth proper social values and the sense of responsibility.
The Vice President made these remarks when addressing dignitaries and school children at the first ever Newmont Youth Achievers Awards organised by the Millennium Excellence Foundation.
Interestingly, the admonishing by the Vice President point directly at the mealy- mouth of the Member of Parliament for Assin North, Hon. Ken Agyepong, who is famous (or is it infamous) on the airwaves of Ghana for his invectives and viciousness.
Last week, Hon. Agyepong hit the opposition National Democratic Congress. These include former President Rawlings (he says he is a wee smoker), his wife, Mr Ato Ahwoi and his brothers, all the leadership and Committee for Joint Action (Wahalians) and many others including the irresponsible Ama Benyiwaa Doe, the National Women's Organiser of the NDC.
Last year, when the infamous Gizelle Yajzi, for Economic Advisor of President John Agyekum Kufuor, threatened to come to Ghana to give information of alleged crooked activities of the President, Hon. Kennedy Ohene Agyepong threatened to organize a posse to meet her on the tarmac at the Kotoka International Airport to assault her.