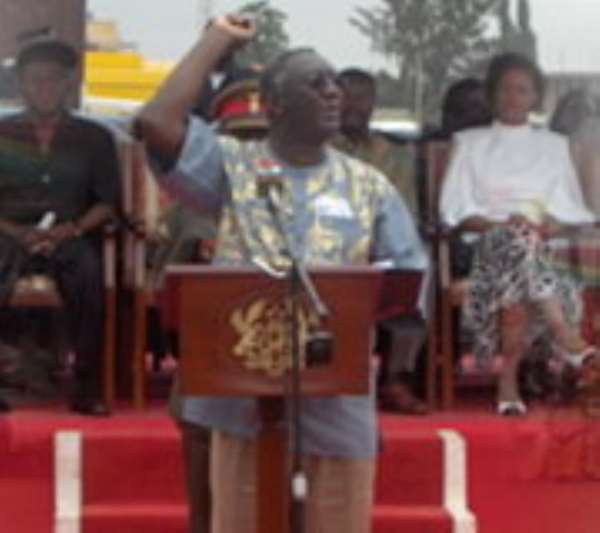 President John Agyekum Kufuor says the 547 million dollar Millennium Challenge Account (MCA) would help provide over 2 million jobs for the youth in the country.
The President also says the benefits from the MCA would not only be felt in the 23 districts selected across the country, but would eventually spread to other parts of the country.
President Kufuor was launching the Ghana version of the Millennium Challenge account on Wednesday at the Abeka Lapaz.
He said the receipt of the compact by Ghana was in response to Government's initiative for good governance and economic growth.
He said the compact is a global endorsement of his Government's good governance and sound economic policies which first led to Ghana's donor and development partners forgiving the country billions of dollars in debt.
He noted that the Government's good leadership has ensured Ghana's receipt of what he termed the "elephant share" of the 2.1 billion cedis which was meant to have been shared among nine countries including Ghana, which he noted will create more jobs for the youth.
The President said the reasons for launching the MCA at Abeka Lapaz was that the place gave a fair representation of the entire country, both politically and culturally.
He also said the launch there was important because the MCA fund would be used to reconstruct the Mallam to the Tema Motorway strip into a six lane 14 kilometre road to facilitate transportation of agricultural products from crop producing peripherals that rely on that road for transporting their agricultural produce.
The President noted that the MCA project would modernize agric, transform rural agric, assist farmers access credit , machinery and irrigation equipment.
The President however noted that the construction of the road would involve some social cost.