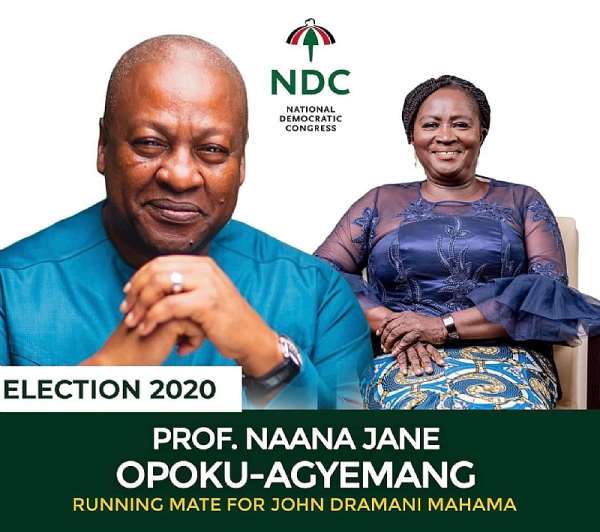 On Monday, July 7, 2020, the National Democratic Congress (NDC) selected Prof Jane Naana Opoku-Agyemang as the vice-presidential candidate for the party. I was excited about this for two main reasons. The first is that she is a Royal, belonging to Adehye hall, the only female hall of residence at the University of Cape Coast (UCC). Given that Adehye hall is the female counterparts (and wives) of residents of Casely Hayford hall (the only male hall) at the UCC, Prof Opoku-Agyemang is automatically a female (and wife of) Casfordian.
Second, Prof Opoku-Agyemang frustrated the vice-chancellor ambition of one of the opponents of Casfordians, Prof. Haruna Yakubu, when Prof. Opoku-Agyemang beat him to become the first female vice-chancellor (VC) in a public university in Ghana. The enmity between Casfordians and Prof. Haruna Yakubu was because, through the initiative of Prof. Yakubu, Casford was closed down, leading to most Casfordians becoming internal refugees on UCC campus on April 2, 2008. For a very long time, Casfordians celebrated this day as "Casford Refugee Day".
I attended the inaugural lecture of Prof. Jane Naana Opoku-Agyemang at the auditorium of the UCC before she was appointed into office as the vice-chancellor of the university (2008 – 2012). I also recall that when Prof. Opoku-Agyemang was appointed as the VC of the UCC, the student-editors of the Adehye hall magazine published a full interview they had with her. In the interview, Prof. Opoku-Agyemang talked about how she managed to go through the difficult days of studies to blaze the trail in the academic world. Since reading the interview, I developed deep-seated respect for Prof. Opoku-Agyemang.
But I am yet to understand the drift of public discussion when more than a week was spent discussing Prof. Opoku-Agyemang as a woman. I could not make sense about the debates: is Prof. Opoku-Agyemang competent for the job because she is a woman or because of her achievement? In the long run, we reinvented the feminism or womanism debate to incriminate anyone who offered "innocuous" criticisms of Prof. Opoku-Agyemang. The so-called radical feminists in Ghana, especially those in the NDC found their voices to dare any man, especially those from the New Patriotic Party (NPP), to speak ill of Prof. Opoku-Agyemang.
Certainly, I was not excited about the drift of the discussions. The reason for my dislike is precisely because we live in a world in which who we are is based on what we have achieved. I call this achievement-based identity. Is Prof. Jane Naana Opoku-Agyemang called for the job as a vice-presidential candidate because of her academic achievement? Must she be voted for because three of her children have attained terminal degrees in their pursuit of education?
I found these debates very difficult to comprehend. First, Prof. Jane Naana Opoku-Agyemang is a human being who must be respected, regardless of her achievements. Prof. Opoku-Agyemang is a creature of God who lives in the image of her creator. Prof. Opoku-Agyemang must, therefore, be respected and accorded that respect, because she has an inherent value as a human being.
This implies that she is no better a human being than any other human being – male or female. From this perspective, Prof. Opoku-Agyemang is not different from Madam Akua Donkor and other women, including Lydia Seyram Alhassan, the Member of Parliament for Ayawaso West Wuogon Constituency in Accra, who was branded as a bloody widow by some NDC politicians.
Second, Prof. Jane Naana Opoku-Agyemang is not better in her achievement than any other human being. In life, we all cannot be the same thing. We are all endowed differently. Some are good at singing; others are good at writing; some are adept as religious functionaries and so on. We come into this world with different and varied competencies. Incidentally, the rules of success are the same in all fields of life.
The determination and hard work that it takes to be a footballer are the same qualities that would qualify one as a footballer, farmer, musician, artists, professor and so on. The beauty of all these differences is the enforcement of complementarity, rather than competition to solve human challenges.
Given this, I was not entirely impressed when her fifty-three-page curriculum flooded social media, including Facebook. I asked myself: what will the curriculum vitae of a farmer who has farmed for about fifty years, beginning at the age of, say, 10 be like? What would the curriculum of Nana Kwame Ampadu, who is also considered one of the Fathers of Highlife music, look like? What about Abedi Ayew Pele? Anyways, before you look for the curriculum vitae of these individuals, you must bear in mind that their accomplishment would qualify for a PhD dissertation.
As I said, the efforts and demonstrable determination that Prof. Jane Naana Opoku-Agyemang invested to produce the fifty-three-page curriculum are the same efforts that have made Nana Kwame Ampadu one of the leading Fathers of Highlife music in Ghana. It is the same set of determination that has made Madam Akua Donkor an enviable and successful farmer.
This is also precisely because not all of us will be professors, academics, farmers, footballers, cobblers, carpenters, lawyers and so on. We all have different fields to shine. What matters is not a needless comparison, but changing the world from where we are (our natural endowments). An African proverb embodies this better, "Do not ask for a place to change the world, change the world from where you are."
More to the point, what we achieve is not as important as the extent to which what we have achieved helps in solving the challenges of human existence. Life is full of vicissitudes and obstacles. Since the Biblical narrative of the Fall of humankind and since creation was subjected to corruption, the world has never run out of problems for human beings to solve. We solve one problem, only for another to emerge.
I have always argued that we live in a world that is woefully incapable of giving us 24 hours of uninterrupted peace. There is always something to take the wind out of our sail. As a nation and continent, we are dealing with issues of illiteracy, corruption, partisan politics, ethnocentrism, and currently the coronavirus (COVID-19) pandemic. At the global level, the world is faced with bad science, conflicts, famine, and diseases.
Following the existential reality of life's challenges, I was surprised that for a whole week, social commentators and some academics discussed the achievement of Prof. Jane Naana Opoku-Agyemang. I did not hear anyone discussing how she has contributed to solving Ghana's teeming challenges, some of which I have enumerated above. Certainly, this is not to say that she has not paid her dues to Ghana. But it is to point out the fact that we should be interested in discussing the pragmatic and considered policies that Prof. Opoku-Agyemang is bringing on board to help alleviate the challenges of Ghana, Africa and the world.
Ghana virtually subsists on the shoulders of persons who till the land; persons who break their backs to carry concrete blocks to build houses for us; persons who sweep the streets and take care of our garbage; persons who dare the consequences to do civil and social policing, and persons who entertain us. Certainly, Ghana also thrives on academic and researchers who contribute in shaping policies. The implication of all this is captured in a statement that has been attributed to many people including Theodore Roosevelt (26th president of the US) that, "People don't care how much you know until they know how much you care."
Certainly, as far as I am concerned, I do not care so much about degrees, as I care about individuals who are challenging the status quo to make life liveable. In this sense, as I have said, we should judge the records of Prof. Jane Naana Opoku-Agyemang. Instead of courting unnecessary feminism and attacking her personality with unprintable invectives (argumentum ad hominem), let us interrogate what she did when she served for a term as the vice-chancellor of the UCC. And let us, as well, ask about the policies she is bringing on board as a potential vice president of Ghana.
Did Prof. Opoku-Agyemang transform the UCC as Prof. Ernest Aryeetey did at the University of Ghana? Did she outperform her predecessors, particularly her immediate predecessor, Rev. Prof. Emmanuel Adow Obeng? What did she do when she was the Minister of Education to radically change the image of education in Ghana?
This is linked to the last issue I want to talk about, which is Prof. Opoku-Agyemang's identity as a successful mother. I was shocked that people were saying that Prof. Opoku-Agyemang will be successful because she has three children who have successfully finished with their doctoral studies. Absolutely, this is a wonderful achievement as a parent. Obviously, most parents would want to see their children succeeding in life.
I still recall how, in 2009, a woman in my neighbourhood in Maamobi fought a conductor (mate) of a mini-bus (trotro) who mistreated her that her son (referring to me, though not biologically this woman's son) was doing his master's at the University of Ghana. When this woman later told me, I laughed my head off. Yet, I was wondering why my neighbour decided to do that. Quickly, I realised that she was prying on achievement-based identity.
Having said that, are we implying that because Prof. Jane Naana Opoku-Agyemang, by raising children with doctoral degrees, will be a better president than a spinster or childless mother? Are we saying that Prof. Opoku-Agyemang would be a better vice-president than Abedi Ayew Pele, who has birthed three successful footballers? By the way, a footballer, George Manneh Oppong Weah, is the current president of Liberia.
Anyway, are we flaunting the achievement of Prof. Opoku-Agyemang to shame parents whose children did not do well in school? To the feminists, are you not stereotyping women with these kinds of banal arguments? Are we saying that only mothers with "successful" children must be celebrated and supported to take high public office? Can we extend this to include bachelors and childless fathers?
If we want to be consistent with this argument, then should we not talk about the "illiterate" mothers who produced most of our illustrious professors in the country? Probably, we should talk about Prof. Emeritus J.H. Kwabena Nketia who was trained in the lore of music by her "illiterate" grandmother in the Ashanti Region. Since most of our most celebrated professors were, indeed, nurtured by "illiterate" parents, shouldn't we have argued for these women to be presidents in Ghana?
One woman I admire so much is Madam Comfort Peprah, a basic (Junior High) school teacher (and later head of a school). Without any scholarship or government funding, Comfort, together with her husband (Mr Sampson Afrifa), also a teacher and later head of a senior high school, raised six children of whom 2 have a doctoral degree (with one serving as a senior lecturer at the University of Ghana) and the remaining four having master's degree in different fields, including food science, business and education. Based on a woman's childcare credentials, I can only imagine that Madam Comfort Peprah could also be considered qualified to contest the office of the presidency in Ghana?
In all of this, I want to point out some of the structural challenges confronting women in Ghana, which need attention. Women in Ghana have multiple challenges that need to be addressed, beyond the facade of feminism. In Ghana, many women have been forced into prostitution to make ends meet.
It is rather sad that instead of our so-called feminists addressing poverty and unjust social structures that push most women into prostitution and other trades that are frown upon, these same feminists would rationalise prostitution by calling it commercial sex work. Sex work, indeed! I wonder how many of these feminists would themselves go into prostitution to survive, given all the risks associated with this social challenge.
Certainly, on the issue of feminism and prostitution, I will like to quote an important statement, Prof Florence Abena Dolphyne, a retired professor of Linguistics at the University of Ghana, said, after she participated in many women "emancipation" conferences:
I never considered and still do not consider myself a 'feminist', for the term evokes for me the image of an aggressive woman who, in the same breath, speaks of a woman's right to education and professional training, her right to equal pay for work of equal value, her right to vote and to be voted for in elections at all levels, etc. as well as a woman's right to practice prostitution and lesbianism (Dolphyne. 1991. The emancipation of women: An African perspective, p. xiii).
Women in various professions in Ghana are struggling as they spend hours and hours at work and spending less and less time with their families. Women are, therefore, struggling with economic structures that compel them to spend hours and hours at work without having enough time for their families.
There are many children in Ghana, especially in Accra, who hardly see their parents. As part of the search for material things, parents spend hours and hours working, including weekends. Most of these parents, particularly women, are forced to work on weekends in some of our financial institutions.
I could not hold it when a woman (student) broke down in front of me at the African University College of Communications (AUCC), a private university in Accra, that she hardly saw her children. Sometimes the maximum time this woman spent with her children was five hours on Sundays, given the social functions she attended on weekends. This means that, in addition to pushing women into the world of work (which is not bad in itself), let our so-called feminists push for better working conditions for our women (and men). I emphasis women because in many homes, childcare is mostly undertaken by women. Similarly, many homes in urban slums are headed by women.
As more women have less and less time with their children, many of these women engage the service of so-called housemaids. Recently, we have seen grotesque footage of how some of these housemaids maltreat the babies of their "madams". Having taken courses in African Family Studies (as a student of African Studies), I have a good appreciation of the implications of absentee mothers (and fathers) on the welfare of children in Accra. Many scholars have highlighted the social and emotional challenges that children of absentee parents suffer.
Given that childcare can hardly be outsourced, I recall that one of my lecturers at the UCC, Mrs. Marie-Acquiline Barton-Odro (who has been called to glory early this year), told me about she had to stop pursuing her doctoral studies to take care of her children. Graciously, after investing heavily in her children's welfare, Mrs Barton-Odro, succeeded in producing children, of whom some are lawyers.
It is important for our feminists, who are very selective in terms of which woman they support, to push for more appropriate technology that would lighten the workload of women in Ghana and Africa. Instead of shamelessly fronting for prostitution and other forms of sexual aberrations, they should work alongside government and other stakeholders to provide conducive working conditions for women. They should not force western feminism down the throat of Ghanaian women. They should push for freer child and maternal care for women.
All said, I strongly stand against the invectives against the person of Prof. Jane Naana Opoku-Agyemang. Prof. Opoku-Agyemang has the same rights as every Ghanaian to contest for the presidency. She must be judged based on her policies and leadership qualities. This also means that we should move away from essentialising womanism in the argument.
I congratulate and wish Professor Jane Naana Opoku-Agyemang well in her political ambitions. May the best candidate lead Ghana.
Satyagraha
Charles Prempeh ([email protected]), African University College of Communications, Accra