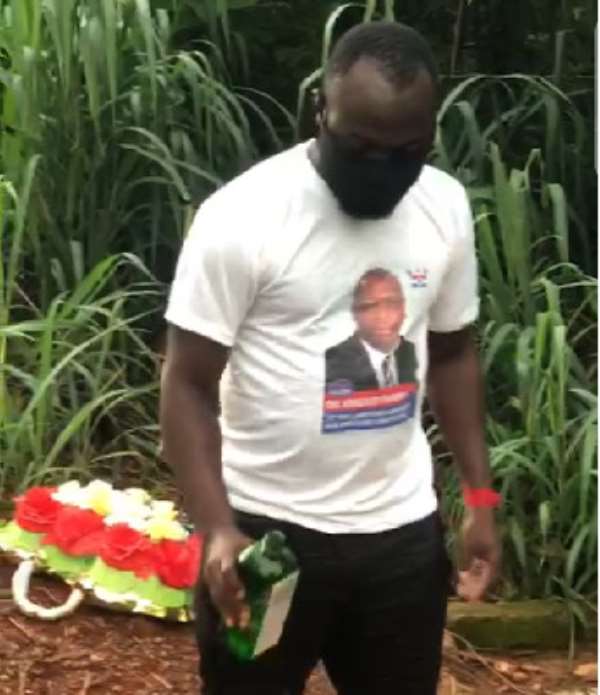 The ruling New Patriotic Party in Kwadaso Constituency in the Ashanti Region would be electing their Member of Parliament on Wednesday 24th April, 2020 at all electoral areas within the Constituency.
Three Aspirants are competing for the Kwadaso Constituency seat i.e. Hon Dr S. K Nuamah (Incumbent MP), Vincent Frimpong Manu and Dr Kingsley Nyarko.
Ahead of the Wednesday polls, a campaign team member of Kingsley Nyarko called Yaw Twumasi is spotted in a leaked video cursing delegates who would eat their food, receive cash as bribes or anything material benefit from the camp of Kingsley Nyarko and still vote against him should be struck dead by the gods.
In the video, Yaw Twumasi has seen saying " it's me Yaw Twumasi and I stand here for Dr Kingsley Nyarko, this election is not a joke so am calling on our ancestors, twede3pon Kwame and spirits of the area to deal with any delegates that would come for our money, eat our food, drink our water or drinks, take our gifts, et al but still vote against us. Nananom and our ancestors should deal with them by death penalty."
He further added "if you know you won't vote for us don't come for our money or gift otherwise death and sicknesses should be your portion from our ancestors. If you come for Kingsley Nyarko money and you don't vote for him may our ancestors deal with you!!!, may our ancestors deal with you!!!," he concluded by pouring libation.
His action, per available information, reveals that some delegates who are key members of their team are heard joining the opponent camp.
Perturbed by their actions just few days to the election on Wednesday provoked Yaw Twumasi to invoke the deities as a warning to "deceitful delegates."