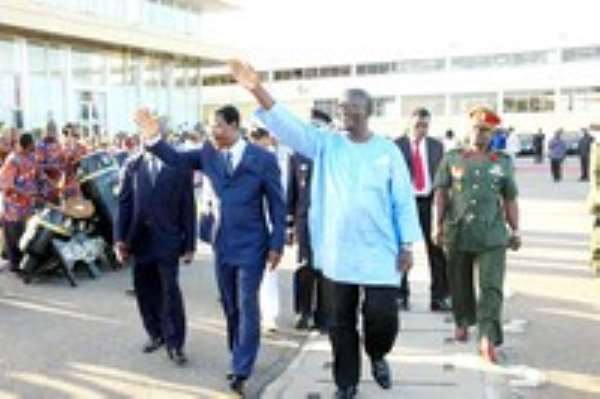 Defence Staff.

Dr Thomas Yayi Boni, President of Benin, has lauded Ghanaís President John Agyekum Kufuor for his leadership, which has made Ghana become a model for the rest of Africa.
He said not only was Ghana politically stable but it has also achieved remarkable success at poverty reduction and wealth creation. Dr Boni said he was in Ghana to learn from the nation's political experience.
The Beninois President, accompanied by his wife and a 26-member delegation, who arrived in Accra yesterday afternoon was responding to a toast at a State dinner organised in his honour at the Accra International Conference Centre. He had earlier held bilateral talks at the Castle, Osu, with President Kufuor.
The visit by Dr Yayi Boni was his first foreign travel since his inauguration about two months ago.
President Boni said Ghana and Benin were linked by long standing blood, historic and cultural relations and called for greater trade co-operation between them for the mutual benefit of their peoples. He expressed his Government's determination to consult and work together with Ghana at the regional and sub-regional levels for the development of Africa.
President Kufuor noted that for the people of Benin to have elected Dr Boni from outside a political party indicated that they had seen something special about him and that he held a lot of promise for his country. As a professional banker, the Beninois President was not much known in mainstream politics. President Kufuor expressed the hope that Dr Boni would live up to the expectation of his people.
Benin set the pace for democratisation of West Africa after many upheavals. For the past 15 years, the people have been using the ballot box to decide on Presidents of the country.
Dr Boni returns home today after a tour of the Akosombo Dam site.