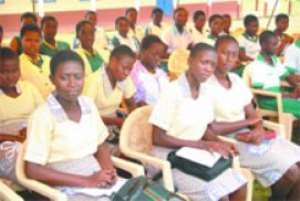 This is the theme for this year's Menstrual Hygiene Day, 28th May. Many girls and women across the world do not have access to good sanitary wear during that time of the month. Most of them still resort to the traditional way of using old clothes and toilet rolls during their Menstrual period.
This poses a serious health implication to them. It is undeniable fact that sanitary products are expensive and many females can't afford due to the socio-economic factors, especially developing countries.
It is said that about one (1) in every ten (10) girls miss school during their menstrual period. This again culminates to about 20% annually. This means that they lose contact hours and this affects them psychologically and academically.
Notwithstanding the stigma that still comes with menstruation, many females will rather prefer to isolate themselves for fear of being mocked than be among their peers.
Its time for action. Its time for us to listen to the voice of the young adolescent girl who is in the village and can't even afford a three square meal a day. Its time for action to fight for no tax on sanitary products in our country. Its time for action for civil society groups to advocate for the female child.
As we mark, Menstrual Hygiene day today, may we be reminded that menstruation is not a choice like sex. Menstruation is biological which every female must experience.
Let us also be reminded that we can support each other and help the girl child enjoy that time of the month.
Its time for action.. No more the rhetorics.
Pearl Ama Akordor (Mrs)
Founder: Girl Today Woman Tomorrow