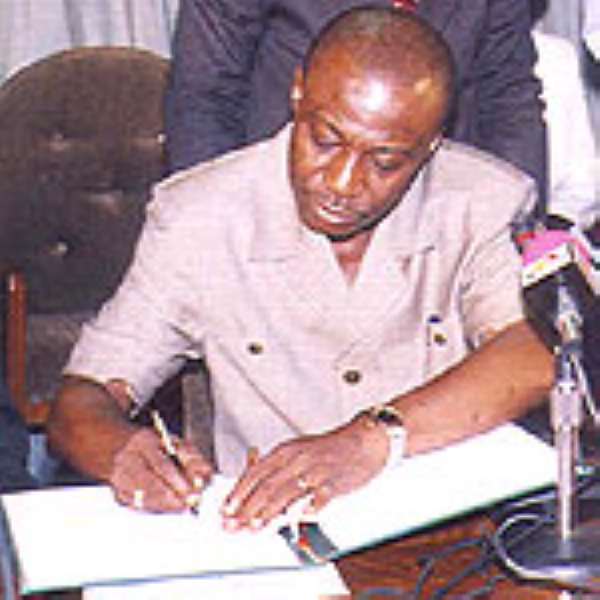 Mr Anthony Akoto Osei, Deputy Minister for Finance and Economic Planning, yesterday said Ghana needed a minimum of three billion dollars if the country were to attain a growth rate of 8 per cent. He said this remained a priority and the Government was ready to welcome investments that could lead to the attainment of that objective.

Mr Osei made these known in Accra, when a delegation from Deutsche Investment Bank held a meeting with the Ministry to discuss and assess investment opportunities in the country.
Present at the meeting included Mr Kwadwo Baah Wiredu, Sector Minister, Mr J. B. Sriboe, Acting Chief Director and Mr Sam Mensah, Technical Adviser on Financial Services for the Ministry.
Mr Sriboe told the investors that the country was confident that its economy would continue to stabilise as a result of good governance and exposure to the African Peer Review Mechanism (APRM).
"Exposing our country to APRM, has led to the identification of some challenges as well as some promises, that the Presidency is working on to achieve a better macro- economic performance", he said.
He stated that on remittances and international relieves, the country was focusing on developing products that would encourage the development of investment oriented remittances.
Mr Sriboe noted that Ghanaians would also be educated to understand the benefits of trading on the stock market and to appreciate other investments, instead of focusing only on treasury bills.
He said the banking sector had also become more competitive, adding that efforts were also being made to list companies such as State Insurance Company, Westel, Goil and the Tema Oil Refinery (TOR) on the stock market.
Mr Dustan Kamana, in charge of Deutsch Bank Securities for South Africa, who led the delegation, said the team had recognized economic stability in the country, which he said was very positive. He expressed gratitude to the Ministry for the opportunity to interact and discuss investment opportunities.