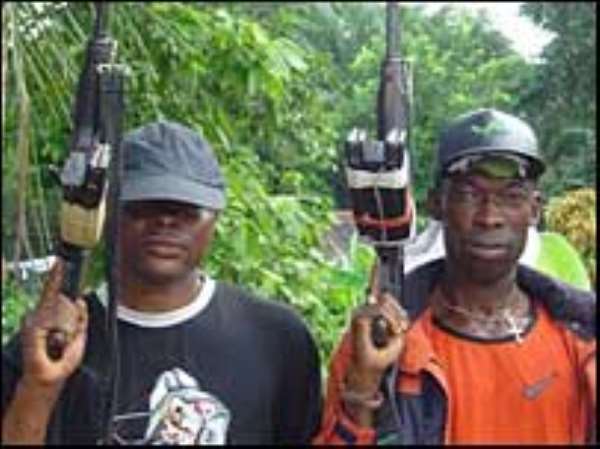 Five South Koreans kidnapped during a raid on a Nigeria oil field in which five soldiers were killed are to be freed, a group of oil militants says.
The Movement for the Emancipation of the Niger Delta (Mend) said it would release them on Thursday, following an appeal from a detained militant leader.
Mend has staged several attacks in Nigeria's main oil producing region to demand more oil wealth for locals.
Eight oil workers were freed on Sunday, two days after they were seized.
Attacks on oil facilities have become increasingly common in Nigeria's lawless, impoverished Delta region, leading to a 25% cut in oil production by Africa's biggest exporter.
Armed groups have long complained that oil wealth has not been distributed equitably among the local population.
The BBC's Alex Last in Nigeria says there are fears that the violence will only get worse as next year's elections approach.
Prisoner exchange?
Mend said the attack, in which they sunk an army boat near Port Harcourt, was a response to a court decision to deny bail to militant leader Mujahid Dokubo-Asari.
Mr Dokubo-Asari was arrested on treason charges last year. Mend has long demanded his release.
One of the other groups that took part in the kidnappings, the Joint Revolutionary Council, says Mr Dokubo-Asari has called for the release of the hostages, according to Reuter news agency.
When it announced responsibility for the kidnappings, Mend suggested that the hostages could be exchanged for Mr Dokubo-Asari.
Three of the kidnapped workers are from South Korean engineering firm Daewoo. The others work for the Korea Gas Corp.
Our correspondent says that many armed groups in the Niger Delta have links to competing local politicians and have been used to help win elections in the past.
So the fear is that violence in the Delta will rise as armed groups, political or otherwise, strive to exert their power, as campaigning starts for elections due next year.