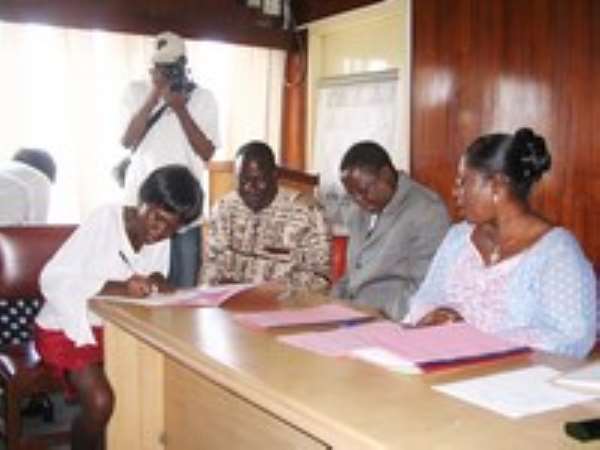 The International Labour Organization (ILO) yesterday signed an agreement with four organizations for the training of trainers in skills development.
The 120,000 dollar project dubbed, 'Skills training strategies for combating worst forms of child labour in the urban informal sector in Ghana,' is a collaboration between the ILO and the Ministry of Manpower, Youth and Employment in offering skills training to the unemployed.
It is aimed at reducing the incidence of child labour in urban informal economy through non-formal low cost skills training as well as access to service conducive to decent employment.
It is a three-year sub-regional project with the aim of combating Worst Forms of Child labour through emphasis on informal, cost effective methods of skills training using the traditional apprenticeship methods.
The beneficiary organizations are Fit Ghana, Centre for Community Studies, Action and Development, Mission of Hope for Society Foundation and Partners in Development, all non governmental organizations.
In an address, the Deputy Minister of the Ministry of Manpower Development, Youth and Employment, Akosua Frema Osei–Opare said that though the main focus of the project would be on skills training and youth employment, education, which she said is a key element in the prevention of child labour, will be given the needed attention.
She explained that the project would utilize the expertise of informal economy associations such as small employers, craft women and artisans.
"In order to scale up activities and ensure sustainable impact, the project will support existing establishments and create some development where non- existent" she stressed.
Mrs. Osei-Opare further said that the intervention of the ILO was a complement to the government's agenda of the National Youth Employment Programme which seeks to create employment for the youth both in the urban and rural sectors.
"The programme will help to equip the youth with skills and employment to prevent rural urban drift which ultimately make most of them become street children limiting their opportunities in life and consequently creating social problems, in society" she added.
For his part Emmanuel Otoo the Country Programme Coordinator, Vocational Skills Project of the ILO, Emmanuel Otoo said that the training would train about 100 children in various skills during the implementation stage and said 50 artisans had already been identified for the exercise.
He explained that the concept of the programme is to develop the capacity of the child as well as the artisan or the craftsman to be able to come out with an innovation which is needed to enhance the country's development.
He called for collaboration among all the beneficiaries and their partners in order to ensure the success of the programme.
*Ms Angela Amuachie (left), Project Co-ordinator, Centre for Studies, Action and Development (CENCOSAD), signing the agreement, while Mrs Akosua Frema Opare-Osei (right), Deputy Minister of Manpower, Youth and Employment, Mr E.A. Akufo (second from right), Chief Director of the Ministry, and Mr Emmanuel Otoo, Country Programme Co-ordinator, Vocational Skills project, International Labour Organization. Picture: Harriet B. Darko Picture: Harriet B. Darko