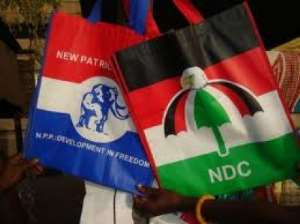 There is no question that as a people, we face possible economic disaster (total collapse of our national economy, that is) in the post-COVID-19 era. Yet, Ghana's sly political class, continues bickering. To quote an old wag I know: "Unbelievable. Abominable. Unspeakable. Unpardonable. What fools!"
What we desperately need, today, as an aspirational and civilised African people, dear reader, are innovative ideas about the transformation of our currently-beleaguered society, into a resilient green economy that guarantees a good quality of life for all Ghanaians - not inane arguments about stupid and irrelevant issues: in a world that's fast disappearing, as it happens.
As my old wag of a friend puts it: "Kofi, enough is enough. Haaba. Morons. Clueless. Greed-filled. Super-stupid. They will all roast in the hottest part of hell, when they pass away, if they don't end this egregious-foolishness." We concur. Wholeheartedly.
As it happens, some of us are fed up to the back teeth, with their endless-idiocy - and we are now praying for the next Jerry Rawlings to strike: and set up an emergency government of national unity, consisting of the brightest and best minds in our country, and in the Diaspora, under the leadership of the principled, firm and focused President Akufo-Addo (finally shorn of his arrogant, sly and mostly-clueless inner-circle, like that sod, the narcissistic Gabby Asare Otchere-Darko!).
The next Jerry Rawlings will then focus on a thorough housecleaning exercise to rid Ghana of high-level corruption, directed by Hon. Martin Amidu, finally freed from the shackles of deliberate-red-tape, obstruction and endless-obfuscation.
Ghanaian politicians must end their inane bickering, now. Not tomorrow. Haaba. Hmmm, Oman Ghana - enti yewieye paaa enei? Eyeasem oooo - asem kesie ebeba debi ankasa. Yooooo. Hmmmm...
Sent from Samsung tablet.