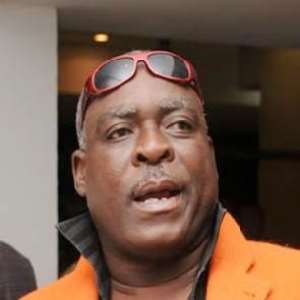 After two failed marriages, popular actor, Kofi Adjorlolo does not see himself becomimg a husband ever again.  'I don't see the point in getting married again.  I know I tried my best to make my marriages work but I guess it is not everyone who is born to have a successful marriage' he told Showbiz in an interview on Monday.
Although he did not give reasons for his marriage failures, the 58-year old actor said he went through difficulties during his marriage days and now that he is single, nothing will make him go back to tie another knot. 
Kofi Adjorlolo who has featured in a countless number of movies said his primary focus is on his movie career which has made him who he is today and not on any woman who may distract him.
'I have two children who I am proud of, and who are also proud of their father and the last thing I would allow is for any woman to give me troubles. I always say to myself that, it is better to remain single than to be married with troubles. I know some people will disagree with me but I have tried it and I know what I'm talking about.
'God knows why I am single now. Maybe I wouldn't have achieved the successes  that I have now.  I have been single for many years and I used to get worried but not anymore ' he said. 
Asked if he would marry should he find his soul mate who is willing to sacrifice everything for him, Kofi Adjorlolo said no woman can convince him to marry again after what he went through. 'I don't believe any woman can convince me to marry again because it will not be worth it.
Reacting to comments that have connected him with model Afi Antonio, Kofi Adjorlolo said there was nothing between them 'I was very surprised when the rumour broke that I was getting married to the lady because she was only a friend whom I met on a movie set.
On his movie career, Kofi Adjorlolo said he was happy the Akan producers had trust in him and featured him in their movies although he is not that fluent in the Akan language.
After working with Nigerian and Ghanaian actors, Kofi Adjorlolo's aim now is to do Hollywood movies.  'I think it is about time I stepped into Hollywood and play alongside well known names such as Denzel Washington, Mel Gibson and Angelina Jolie' 
Born to Mr Johnny Adjorlolo and Madam Matilda Johnson, Kofi Adjorlolo hails from Keta in the Volta Region where he had his early education at AME Zion School.  He then went to Keta Secondary School and later,  Ebenezer Secondary School then GBC Radio Training School.
Before becoming an actor, Kofi was a professional musician who played with a number of bands including that of Nigeria's Victor Uwaifo of 'Joromi' fame.