September 19, 2013
|
General News
Kufuor Raises Thumb For Kwaw Ansah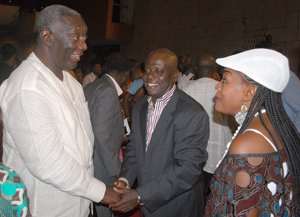 Former President John Agyekum Kufuor has praised the Director of TV Africa Mr. Kwaw Ansah for his newest movie, 'Praising the Lord Plus One'.
'Praising the Lord Plus One' is a two-hour movie with characters such as Ecow Smith-Asante, Eddie Nartey, Nii Addo Kwei Moffat, Martin Owusu, Ama K. Abebrese and Adjetey Anang playing various roles.
'Praising the Lord Plus One' is set to tackle the issue of proliferation of churches in the Ghanaian society.
The heads of these churches arrogate to themselves a number of titles such as 'Apostle', 'Prophet', 'Bishop' or a combination of these.
The movie presents Mr Ecow Smith Asante as the man of God whose title is Apostle Prophet Gabriel and his conman aid Eddie Nartey, who also goes by the title Apostle Joshua.
Apostle Joshua gathers information on vulnerable people in need of a solution to everyday-life problems, such as people who desperately need babies.
The Apostle informs the Prophet who in turn visits those persons as if he has a divine revelation about them.
At the end, Apostle Gabriel's ploy is uncovered by Frank, husband of Rebecca and he pleads for mercy.
President Kufuor and his wife Teresa were among the large number of guests at the National Theatre in Accra for the premiering of the tenth movie directed by Mr. Kwaw Ansah, the Director of TV Africa.
The former Head of State described the Director as a pacesetter for his works in promoting the movie and performing arts industry, adding that his themes always sought to address pertinent social issues as well as bring them out for public discussion.
The Deputy Minister of Tourism and Creative Arts, Miss Dzifa Abla Gomashie expressed happiness that prominent professionals in the performing arts industry were put together to stage the movie.
The Deputy Minister, who is a genius in the performing arts, said the theme for the movie, though controversial, as it touched on religion, was very relevant for the Ghanaian contemporary situation.
Miss Dzifa Gomashie further said that it was unfortunate that people were exploiting the vulnerable in society, adding that it was important that people seek God in his word (Bible) rather than in men.
The former Defence Minister, Dr. Addo Kufour on his part said, 'Praising the Lord Plus one sums up the Biblical message 'Be wise as serpents.'
Rev. Fr. Palmer Buckle said the movie was a must-watch, but was quick to urge viewers to appreciate the message content and be advised.
 By Solomon Ofori