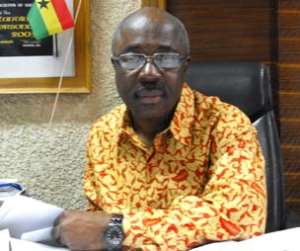 Kwaw Ansah earned great respect after releasing 'Love Brewed In An African Port' and 'Heritage Africa' in the early and late 80s respectively. He has won prestigious awards with both movies including the Pan-African Film Festival award (FESPACO).
Last weekend at the National Theatre, movie enthusiasts saw the premiering of his third project 'Suffering To Lose' in 'The Good Old Days' serials. The first and second were 'The Love of AA' and 'Papa Lasisi Bicycle'.
Kwaw Ansah by default has created a niche for himself and as a result has become a favourite of most movie lovers in and outside Ghana, hence why the premiere pulled a large crowd.
As I seat to watch the movie with many several others, I realised that Kwaw Ansah is loved. 'Suffering to Lose' set in the 1950s and 1960s is a compelling story of love, family and relationship which portrays the hallmark of a good African woman who suffers through thick and thin for her family.
One thing that would draw many to watch the movie I reckon would be the great casting. Great actors like Ekow Bingo Baiden, Akorfa Ejeani Asiedu, Agnes Dapaa and Emmary Brown featured in the movie makes me appreciate Kwaw Ansah. At least he is not blindfolded like the other directors who constantly use the same faces who many times don't know how to get into character.
Acting generally was good. Portia Asare Boateng has transformed from starring in a 'no script' movie produced in Kumasi to a great actress in Kwaw Ansah's movies.
Kwaw Ansah is a smart old man. Why? After the beginning credits of the movie rolled for the commencement of the movie, something interesting appeared on the screen. It was something that thrilled the patrons. Yes it did because it was hilarious and they responded. Usually movies are dedicated to various personalities. Movie makers often dedicate their movies to a lost or departed family member. Others dedicate it to a departed soul who was a player in the Movie Industry.
Kwaw Ansah, unlike the rest dedicated the 'Suffering to Lose' movie to all the witches camp on the African continent. When the inscription appeared boldly on the screen, some patrons got reeled in laughter whiles others smiled their hearts out.
He was smart enough to employ humour to commence the movie. I felt he managed to tune the patrons' minds well for a movie that was dragged needlessly. I can understand that as a legendary film maker, he pays and wanted to build his plot well but in doing so the movie was dragged. I felt for someone like Kwaw Ansah, all those dragging was totally avoidable at least owing to his previous award winning works.
For instance, from my perspective and that of many, the movie actually started when Paa Joe [played by Ekow Bingo Baiden] died in a motor accident. All that transpired before the accident was a bit dragged. It felt like Kwaw Ansah was trying to make time with the over-elaboration of Paa Joe's visit to the Mensah's house.
The humour which started with Kwaw Ansah dedicating the movie to the witches on the African continent continued throughout the movie, especially the scenes of the Mensah's family.
Most movie lovers have fallen in love with the little girl from the Mensah family since the first movie. And again each of their scenes had something to laugh or smile about. From the moment the news of Paa Joe coming to their house, to when they were told of his death.
How the children responded to Paa Joe's death was unbelievable because I would have behaved differently if I was told that "Paa Joe is gone". I wouldn't have reacted in the manner like they did after all "Paa Joe is gone" doesn't necessarily mean "Paa Joe is dead". As usual the little girl was dramatic.
I will give them the benefit of the doubt because I was born in 1980 whiles the movie is set in the 1950s and 1960s. Perhaps the mere fact that their mum was crying when she said "Paa Joe is gone" was a clearer enough to them.
People who have seen the previous two projects would attest that, the Mensah's children have become favourites of many. But I'm not too sure if in the olden days, a parent with five or more children calls each child with their respective names when he/she wanted to talk or discuss something with them. There was more than one scene with the above. A situation that could have been avoided in the movie because it dragged the movie.
'Suffering to Lose' also touches on delicate pressing life issues. When a man dies, the woman is blamed. In this instance, no man dies a natural death. Every death is attributed to someone [woman]. The properties she might have helped her husband to acquire are then taken away from her.
Apart from the dragging, slow pace as well as comic tactics that was over-elaborated or over-used, I think the movie is good and a must watch. Some avoidable anomaly I discovered in the movie includes a screen that has to do with something I believe was a continuity setback.
A scene were Paa Joe was sleeping in a room appears to be the same room that Albert Jackson Davis was captured dressing up to go and meet Akorfa Ejeani Asiedu at the same time. Unless of course there were two separate rooms with similar designs. If so cool but if not, I thought that was also avoidable.
'The Good Old Days – Suffering To Love' is such a must watch movie from the stables of Film Africa Production under the tutelage of the legendary Kwaw Painstil Ansah.
Source: http://www.ghanacelebrities.com/2012/01/11/my-sincere-thoughts-on-kwaw-ansahs-the-good-old-days-suffering-to-lose#ixzz1j9Vbi1wo
Ebenezer Anangfio Jnr.