Multi Tv's 'Cine Afrik Premieres' kicks off with 'Forever Young'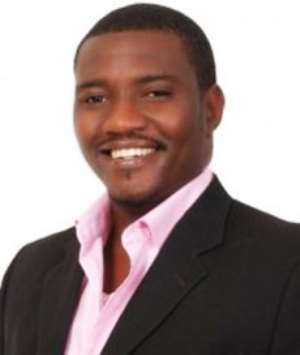 John Dumelo
For the very first time on television, 'Forever Young' , a glamorous Ghanaian movie produced by Silverline Films starring John Dumelo, Jackie Appiah, Kalsoum Sinare and other top movie stars was shown on TV on Saturday, August 13.
Producer Hajia Meizongo joined MultiTV studios for the live chat room session before and after the movie, courtesy MultiTV's Cine Afrik Premieres .
The highly acclaimed producer was overwhelmed but encouraged by the massive response she got from viewers who interacted with her.
MultiTV's Cine Afrik channel is raising the bar in the Ghanaian movie industry by strengthening the relationship between the channel, its viewers and Ghanaian movie producers.
This healthy relationship between Cine Afrik and the Ghanaian movie industry gives the channel an upper hand to constantly air new Ghanaian movies for the viewing pleasure of its valued audience.
The two-and-half hour show will, in every week, premiere new Ghanaian movies yet to be shown on any television in Ghana.
By virtue of MultiTV's availability nationwide, viewers from across the nation were elated to join the chat room when the phone lines were opened.
The show also gives movie producers the opportunity to share insights with viewers through the phone-in and text message segment. Viewers, after enjoying the movies, also get the chance to see and interact with their favourite Ghanaian movie actors and actresses.
The Cine Afrik Premieres chat room also chronicles the behind the scenes and coverage of the theatre premieres of the movies it premieres. While the chat room session is held every other Saturday ahead of the premiering of fresh movies, the part two of the movies premiered are shown the following Saturday.
Debora Osaah Kusi, otherwise called Adwoa, one of the stars of the maiden edition of TV3′s Ghana's Most Beautiful in 2007, is the host.
According to the Programmes Director, Abdulai Awudu and the Channel Manager, Miss Nana Yaa Serwaa Sarpong, the ultimate aim of the Cine Afrik Premieres is to promote Ghanaian movies and their producers on the channel and to also bring a refreshing viewing experience to its viewers.
Cine Afrik has also made it a priority to support outstanding Ghanaian producers to premiere their movies at theatres by granting them massive promotions on both MultiTV and Multimedia radio stations.
A line-up of future premiers include some of the biggest Ghanaian movies from the most influential movie production houses such us Venus Films, HM Films, Marhils Productions, Omega Links, Stenes Productions, and many others.
Cine Afrik Premieres shows only on Multi TV and airs every Saturday at 7pm.