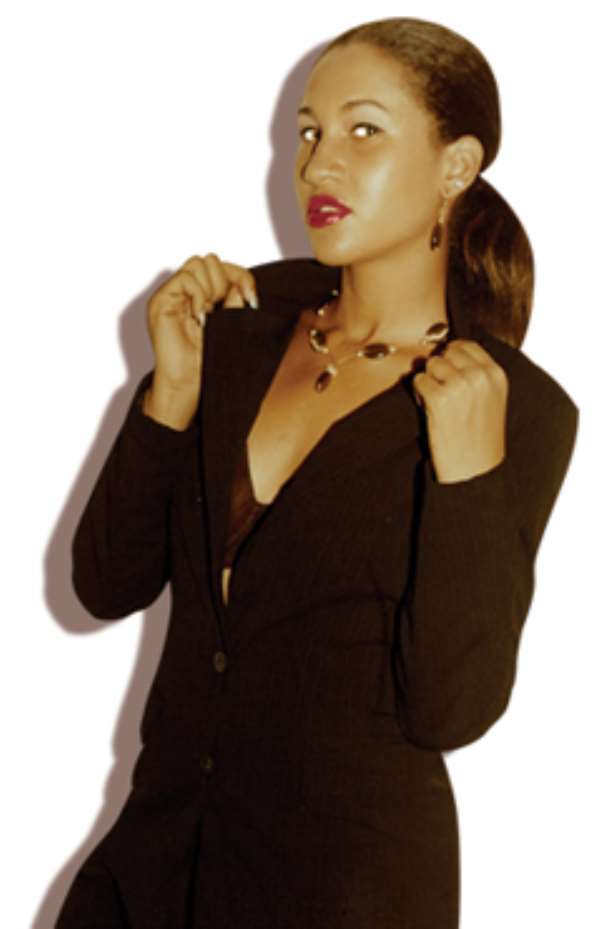 Caroline Ekanem Danjuma
She's up and coming but one of the luckiest fast rising actresses in the Nigerian fledgling movie industry. Attractively provocative, beautiful and charming, the half Scot, half Nigerian lady has sure stamped her footsteps on the sands of time having cut her teeth in modelling, and now a popular actress.
Caroline Ekanem is her name, and just recently, she took the bull by the horns when she decided to succumb to a marriage offer from a millionaire divorcee and one of Nigeria's silent achievers, Musa Danjuma whom she was pregnant for last year, 2007.
Today, the relationship has been blessed with a fruit of the womb- a bouncing baby girl. Like never before, the fresh graduate of Environmental Protection Management and Geography from the University of Calabar granted this interview before her relationship with the super rich businessman who has now changed her acting and modelling career to a kitchen model and full housewife. You would enjoyed the very intimate secrets of Caroline Ekanem Danjuma.
Q: Can you give us an insight into your background?
We're just three children from my mum, I am the first and the only girl, I have two younger boys.
Q: Tell us about them?
They're my half brothers, Tunde Raphael Afolabi and Abiodun Solomon Afolabi, but not half-cast like me. Their father is from Ejigbo, an ancient town in Osun Stae of Nigeria. They're both in secondary school.
Q: Who's your mum?
God fearing, hardworking, disciplined and talented, she's Mrs. Jennifer Afolabi, from Oriyo family in Eket, Akwa Ibom State, though she's parted ways with my step father, she's a Fashion Designer in USA.
Q: Do you how she met your father?
Umm…from what I heard, she was the first runner up of a beauty pageant, Miss Uyo from where my father met her, they fell in love and both travelled to Spain where she attended a Fashion School and later got married.
Q: And your dad?
Don't really know much of him, he's Scottish, his parents were wine producers, I hardly hear from him unless his uncle who's here in Nigeria, but I believe my father is fine because I spoke with him…I think couple of years ago…he's in France right now.
Q: His Names?
Julian David Hollinwarth Hornelin
Q: How much do you know of him?
Like I said, not much, they separated before I grew up, but I know him and I've seen his photograph.
Q: Has he ever invited you over?
Yes he has but my mum wouldn't let me. They were not in good terms and my mum was like I have to be at least 18 years before she can allow me to travel and this I think got my dad upset. Mum was actually scared that may be as a man, my father will not give me the required attention.
Q: Your mum is in the US, Dad in France, how do you cope with living?
I have lived to be an independent girl all my life. Though it is hard sometimes, I can tell you I have never compromise my body for money because I believe in God. I remembered when I was writing my second JAMB examinations, I was with my aunty and things were really tough, I had to try modelling even though I was born with silver spoon, when I looked at the way life was, I just believed that if I really wanted to depend on people, I don't think I can survive for long. So, I decided to move on my own and struggle for myself. That has really helped me right now. I started as a model, my grandmother supported me with so much advice. And when I got into school, I continued the struggle and became an actress. My grandmother was particularly of help, she was of the opinion that with determination and consistency, I'll become a star. I edged on and was always contented with whatever I get, I was not like every other girl, like, oh! 'I must have a gold wrist watch by all means because I know I must have them one day'. Though, I knew then that there were so many ways I could have them if I really wanted to, I'd always believe in God's time as the best, so I was studious and hardworking till I got here.
Q: Can you share your modelling experience with us?
As a little girl, I'd always wanted to be a model, a super runway model, not a billboard or TV. So when I told my grand mum, she was against it because she thought it was not good for me as her only pet, she did not want anything to hurt me. She did not want me in the midst of guys for reasons you and I know. But I had to convince her that she shouldn't forget the way she brought me up and that I won't disappoint her.
Q: What was your first experience as a model like?
Very interesting, in fact if it hadn't been the many cautious warning my grandma had imparted in me, I would have fallen for the whiff of money because my first agent almost corrupted me.
Q: How?
He was always given me a job that had to do with me seeing the director at odd hours. They would called me up at 10.00pm when I would have slept in my grandma's house, they promised me billboard and some other interesting jobs but I turned them down because I knew it were all tantrums to sleep with me, this I coped with until I came across Tony Jackson, who was a very nice agent, though I was not registered to him, I only freelanced. Through him, I got Burden of the Wool, Calypso and some other jobs. I didn't really do most of the jobs he gave me because of school.
Q: Tell us about school?
During my primary school days, I was a very intelligent and focus student. I remembered I was always getting, 'Best Neatest and Best Behaved Girl Awards', may be that was because I came from the UK then. As for Secondary School, I attended a boarding school, Federal Government Girls College, Oyo and later left for African Church Model College where my grandma was a principal. I was made a prefect in charge of the Principal's office and Sanitation. I was one of the best students in Mathematics, English and Geography and now, I am an undergraduate of the University of Calabar studying Environmental Protection Management and Geography.
Q: Your acting career, how did it all start?
Just like every other adventure in life, but Rita Dominic introduced me to acting and I've ever since been in it big time.
Q: How many people have you dated in the industry?
That's too private and I've not dated anybody, I only have friends.
Q How many of them, including Innocent Idibia (Tu Face)?
Umm…Tu Face was my boy friend, no doubt, we used to be very close
Q: When will you like to be married if you have your way?
Anytime. As soon as the man is responsible, I'm not a money-freak, I just want a God-fearing, wealthy, not rich, I mean he must spiritually, mentally and physically wealthy. When a man has these types of wealth, his riches will be enormous. I also pray for a good listener, kind-hearted as a husband, somebody who's going to strengthen my faith and physical being.
Q: What's your belief about life?
My belief about life is that life has a lot to offer, a lot of things that you just have to face. And if you're not ready to face them, you're not ready to live. I believe in what God has destined about life and not what people profess. I don't care about what people say but what God say about my future, life has a period of trial, you must not relent until you overcome.
Q: What will you achieve to make you fulfil?
I'll count myself fulfil if I can finished my University degree, get a good job and get married to a man of my dream.
Q: What would you say acting has bestowed on you?
I have gained a lot as an actress, it is so wonderful. It is so nice to be walking on the street and people just start shouting your name that they love you and the way you act. I would say this privilege has really changed my ways of life because I used to be a hot tempered person but as somebody in the eyes of the public, I don't have a choice but to behave at all times, so I'm always conscious of what my mates are not conscious of.
Q: How do you think you can charm you man?
I believe I am fashionable, attractive, well-mannered and educated, which are some of the qualities men really take fancy for and of course I am an Akwa Ibom girl, well brought up by my grand parents. So… what it means is that I am a very good kitchen model, if you know what that means and I'm also good at house chores.
Nice sharing you time.
Pleasure is mine.