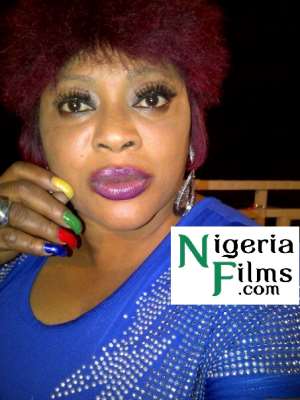 Delectable Yoruba movie star, Ayo Adesanya over the years has become a household name in the Yoruba movie industry. The beautiful chubby actress and her ex-husband, Goriola Hassan became a news item in year 2009 when their relationship of about 8 years hit the rocks. The University of Ibadan graduate of Language and Communication Arts has since moved on with life and things are obviously looking up for her. In the next one month, Ayo's 'Amope Alasela", a comedy produced by her will be on the movie stands all over the country. The actress who got to limelight with the blockbuster 'Iru Oka' in the 1990s tells whoever cares to listen that she is enjoying every minute being a single mother. Ayo who has gentle mien but would not like to be referred to as an introvert spoke on her new movie, 'Amope Alasela', why and how she left her marriage, her life as a single mother, her new relationship and plans to re-marry.
What movie project have you been working on lately?
The movie project is have been working on lately is titled "Amope Alasela". It is comedy with an interesting story line. The movie is produced by me under my production outfit called Playgirl Production and features movie artistes like Sola Fosudo, Ronke Ojo, Razak Olayiwola, Nike Idris, Sunkanmi Omobolanle, Jide Awobona, myself and several other actors. It was directed by Muyideen Sasiliu. It will be released in July and will be marketed by Almoroof Standard Investment.
It seems you deliberately went underground in the last few months. What has been responsible for this?
I actually work but I wouldn't appear in all movies. I am not the kind of person that wants to do everything. I only feature in movies I enjoy to be part of the production. I am selective when it comes to acting in movies.
What are the things you consider before accepting to be part of a movie production?
The most important thing is the storyline. If I like the storyline then I will feature in the movie. I also look at other movie artistes that will feature. I also consider who is directing the movie. These are the things I consider before accepting to be part of any movie production.
Are there movie starts you are comfortable working with?
I am comfortable working with every actor or actress who is intelligent. Acting is also a give and take kind of thing. The actor or actress you I have a dialogue with, has to be intelligent. Once an actor or actress is playing his or her part well am good with the person.
In recent times there has been a sort of revolution into comedy movie production in the Yoruba movie industry?
I think it is the market and essentially what lovers of Yoruba movies want to watch. At a time people craved for movies which had storylines of crime.
What informs this gentleness about you which you exhibit?
I think it has to do with my nature. I don't catch my trip being hyper or everywhere. I have a calm nature and I look well before I take my actions. That does not suggest 'am an introvert. I talk and gist when I see people 'am familiar with.
How do you handle male suitors as a star actress especially now that you are out of marriage?
That is true I have a couple of guys who want to go out with me but am mature minded and know how to handle men. There is a way you tell somebody "No" without being rude to the person.
Does that suggest you are in any relationship for now?
(laughs) Yes I am in a relationship.
Is it the same relationship that created some much attention about you dating an official of a parastatal like a year ago?
Really? (laughs) I am a relationship and 'am enjoying every bit of the relationship.
Are you going to give marriage a trial?
If it comes why not? Definitely I will give marriage a trial. There are several level-headed men around. So I will give marriage another try someday.
Do you think you and your ex-husband, Goriola Hassan can reconcile?
Capital NO. I don't see anything of such happening we are not just compatible. We can never reconcile, never.
What didn't you see the incompatibility while you were together?
As human beings we are not perfect. We make mistakes and learn from our actions. Life experiences can come in the hard way or any other way.
What are the irreconcilable difference that is responsible for your not coming back?
His ways are not my ways. And I don't think anyone in a relationship that is not bringing happiness should stay.
How many years did the relationship last?
The relationship lasted for about 8 years.
What does being out of the marriage leave you with?
It leaves me a happier person. I have also been able to discover myself. There are several things now I can do all by myself now than before.
How far is it true that you parked out of the house in the middle of the night?
Yes I parked out of the house in the middle of the night. I don't want to relive my past.
You both have the same tattoo drawn on your arms. That obviously is a sign an attachment
(cuts in) I have started undergoing series of surgeries abroad to clear the tattoo off my body.
Does that not suggest efforts to get rid of anything about him?
I am just tired of having tattoos on me. I have mellowed now on all those stuffs. I am now more spiritual and my religious inclinations kicks against it.
What is the state of your relationship with your ex-husband?
I don't want to go into that please.
Who is responsible for the upkeep of your son?
I don't want to go into that for the sake of my son.
As a single mother, how do you cope with paying bills?
Don't forget I work moreover God has been good to me.
Peradventure you decide to settle down, who is your kind of man?
He must be god-fearing. I mean a real god-fearing man because there are so many fake God fearing men around. He must also be humble even if he owns the world. Humility means a lot to me. He must also be cool and nice to me.
What if the man in your life demands your hand in marriage?
Of course, I will marry him. And no further comments on that please.
There are strong insinuations that the man in your life is married…
That is not true. The man in my life is single. He is 100% single.
He has never been married.?
Am not talking about the man in my life. He is single.
What do you like about him?
He is god-fearing and really understands me well including my short comings.
Are you cool with your status?
Yes am very fine. And I can pay any amount just to be happy.
So when is your son getting a junior one?
(laughs). Am not God oooo please.
Click the link below to go to...
EXCLUSIVE: Shan George In Trouble Over Outburst On Colleagues**Actresses Plot Against Her?
Stephanie Okereke's Poise And Style
UNBELIEVABLE! Pastor Princewill Impregnates Girl [VIDEO]
I Never Broke Any Woman's Heart Marrying Annie--2Face [Watch Video]
Genevieve, Omotola, Rita Dominic Get Movie Role with Halle Berry?
Woman Bites Off Neighbour's Nose For Making Her Husband Deny Her S*x
Fake Stephanie Henshaw's Facebook Account Posted Break-Up Statement?
EXUDING RADIANCE: EMPRESS NJAMAH
Church: N300,000 Offering Money Turns to Paper
Popular Abuja Pastor Arrested For R*ping 14yrs Old Girl [VIDEO]
Gospel Artiste, Sammy Okposo Sees Nothing Wrong In Fornication...Confirms Multiple Relationships