GHANAIAN STAR ACTOR,AGYA KOO'S MARRIAGE CRASHES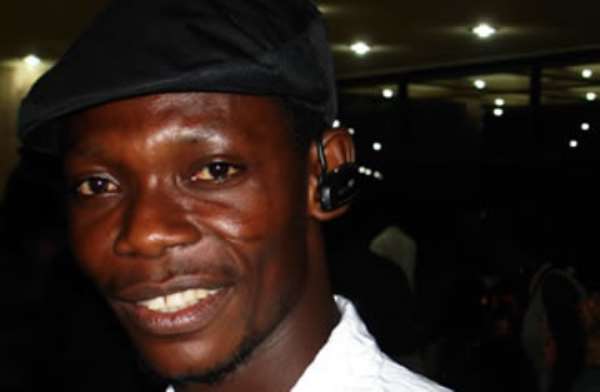 The marriage of popular Ghanaian comic actor,Alex Kofi Adu,popularly known as Agya Koo might have hit the rocks going by the latest news coming from the home front of both the actor and his wife of many years,Victoria Owusua Adomako.
In the past there had been some unpalatable gists which had pointed to the fact that all has not been well lately between the couple.
Only last week however,another interesting twist was introduced to the unfolding situation.
Agya Koo was reported to have caused the arrest of his wife for allegedly stealing his car and giving it to her boyfriend.
Victoria was picked up by police at Senya Bereku in the Central Region together with her alleged lover,whose name was only given as Kwadwo and who Agya Koo reportedly claimed masterminded the stealing of his car.
However,the recent sad developments between Agya Koo and his wife Victoria who used to be one of the couples who have received high praise for staying together for a long time set tongues wagging.
In the past,Victoria has been hailed for staying with the actor through his grass to grace story while Agya Koo is also praised for not leaving her when he achieved fame.
Initially,when Agya Koo was contacted,he denied having any knowledge about the arrest story.
However checks at the Tesano Police Station where the case is being handled confirmed that Agya Koo was indeed the one behind the arrest of his wife and her alleged boyfriend.
The officer in charge of the case confirmed the issue and revealed that Victoria in her statement denied stealing her husband's car or being involved in an extra marital affair and explained that she used the car to transport her belongings from her matrimonial home to a new apartment she rented at kasoa some three months ago.
Victoria reportedly stated that she left her matrimonial home to avoid the continuous intimidation and humiliation meted out to her by her husband.
Narrating some of her ordeals, Victoria disclosed that Agya Koo always walked her out and locked the door of the room they shared, whenever he was going out or even going to the washroom as if she was an intruder.
She was also dissatisfied that Agya Koo had sidelined and relegated her to the background now that he is rich and famous after she had hustled with him for years in abject poverty.
Victoria insisted that Kwadwo was only her friend and not her lover as her husband wanted people to believe.
She said she heard that Kwadwo had been picked by policemen at his house in Berekum because of her so she drove there to find out if it was true only for her to be arrested as well when she arrived at the house.
Meanwhile,the brother of Victoria's alleged lover,Abass rubbished Agya Koo's denial saying that the actor led a team of policemen to arrest his brother in the early hours of Sunday.He said the two were first taken to the Abeka Police Station before they were finally transferred to the Tesano Police Station for interrogation.
This is about the second time that controversies surrounding Agya Koo's love life have become public.
A woman,Mary Aboagye who claimed to also be his wife accused him of not taking care of their five year old son and subsequently filed a case against him at the Kumasi branch of the Domestic Violence and Victims Support Unit of the Ghana Police Service.