Yes I've Found Love----Ayo Adesanya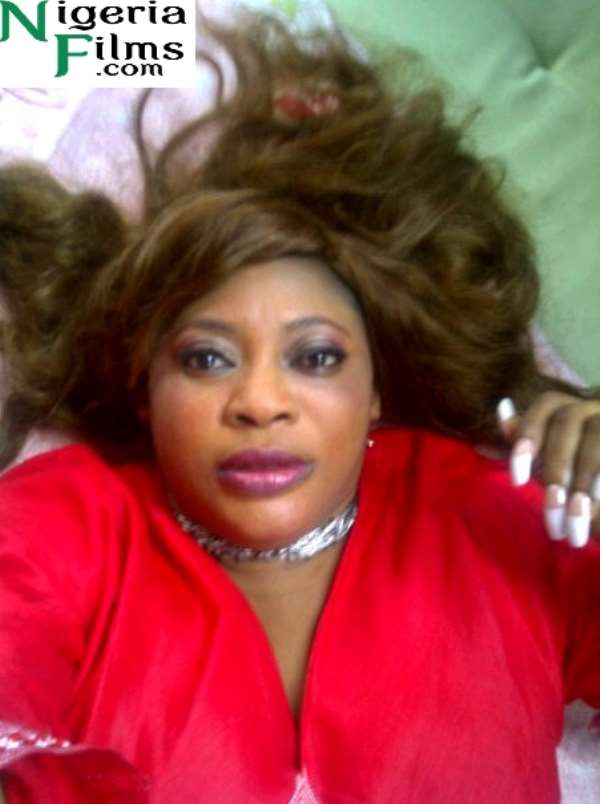 Beautiful and sultry Ayo Adesanya burst onto the movie industry with her inspiring role in the rested but popular soap, Palace. Since then she has carved a niche for herself in the industry. In this interview with BIGBOUI, the single mother of one speaks on her crashed marriage to movie producer, Omogoriola Hassan, her experience in the industry and relationship with colleagues. Excerpts:
How have you been able to stay relevant in the industry even with the emergence of fresh faces and young talents?
Everything I have been through has made my life very unique. Whatever experience I have gathered in my journey of life so far has turned out to be a blessing because I am stronger and more matured.
Has your foray into movie productions helped in any way to shape you positively as an actress?
It's not a very easy task for an actress becoming a producer so I believe they should go through some form of training; there are some basic steps that need to be taken for a successful production to take place.
Is there any experience you have gone through in life that you wish to re-write?
Yes in a very big way it has really broaden my knowledge because when producing you are involved in all the aspect of production, it maybe financial, directing and artist welfare in general rather than just being in front of the camera, you are actually more in a business world.
In your own view, what do you see as the biggest threat confronting Nollywood?
I believe to be relevant in the entertainment industry someone has to be flexible and also be able to change with time, and I guess that has been a plus for me because viewers get tired of the same thing over and over, but being able to do different things at different times has given me an edge.
Do you have any new project in the pipeline?
I am putting some things in place, there's a project I'm about to embark on, I have nurtured it for some time and it is at the implementing stage, by the time it starts off I know the world will remember me with that. Aside, I want to be remembered as a girl that brought a smile to people's faces
Did you join the movie industry through your own volition or was it by accident?
Actually, I have just completed a movie titled 'Amope Alasela.' it's a movie after my heart, I have had the script for sometime but to God be the glory it was completed about a week ago, it's a movie after my heart because it was not an easy project, I can't start talking about all the challenges I went through but thank God we had capable hands on deck, Muyideen Ayinde directed, while Abdullahi Yusuff was the Director of Photography. The movie features some of Nollywood's best like Sola Fosudo, Ronke Ojo (Oshodi Oke) Razak Olayiwola(Ojo Pagogo,) Bayo Bankole (Boy Alinco) Sunkanmi Omobolanle, Dampla Olatunji, Jide Awobona and Bisi Komolafe . I played a dual role and it's a movie to look out for.
[PHOTN]http://www.nollywoodgists.com/image.aspx?img=Y29udGVudC9jb250ZW50L0F5by1BZGVzYW55YS5qcGd8NjYw|In your own view, are you happy with the state of affairs in Nollywood especially with the sectionalism between the English and Yoruba genres?
I believe Nollywood having the Yoruba and English sections gives room for depth. It allows viewer to choose what they prefer to watch and not force thing on their throat.
Have you ever had a terrible encounter with your colleagues, especially producers in Nollywood?
No, I have never had a terrible encounter with anyone in the industry, I see everyone as a family.
What's your take about actors becoming producers?
There's no big deal to that effect.
Do you not think they need training before becoming producers?
On actors becoming producers, I really don't see anything bad in it as long as they are sure of what they are doing. I was first an actor before taking that bold step of becoming a producer.
Have you found love again?
Yes I have found love.
Are you still on talking terms with your ex-husband?
We have both moved.
If you had your way, would you have wished that your marriage never broke up?
Well, now that the marriage is over there is not much ado about nothing.
What would make you reject a movie script?
A bad story, I hate to be part of a badly written script
How close are you to most of your female colleagues?
We are close as close can be, we do get by
Have you taken off your 'No Fear' tattoo because it was rumored that you wanted to alter it?
Hmmm, I wonder where that originated from, well concerning the tattoo I'm actually tired of it and don't be surprised anything can happen to it
With over a decade of experience in movies, what do you think we are still not doing right in Nollywood?
We need governments and corporate bodies to assist us financially in making movies because we have always use hard money to make all these movies but with the assistance of these corporate bodies we will have things a little easier.