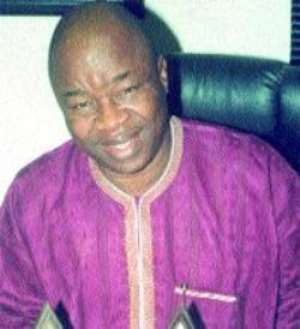 WALE ADENUGA
For the past thirty one years, Adewale Adenuga has made a name for him self as Nigerians number one humour merchant. His creation Papa Ajasco and co., or his Super story which he started out as publications now anchoring on popular television has tumbled out several people who have played the very humorous characters.
From Peter Fatomilola who played the role of Papa Ajasco, to Aluwe who played the first Pa Jimoh in the celluloid film produced in 1983 to Biodun Ayoyinka who played it later when it became a very regular television programme shown all over the world. Children born in 1976 are now adults men and women begging you ro ask the questions; who is Wale Adenuga, what is the secret of the survival of the programmes, what does he want to do next? And more. We met him.
Secret
Well, the secret is God. He is the Creator who is using us to empower and improve mankind. We started TV series in 1997 and now we have four in the kitty. We first did Papa Ajasco followed it with Super Story. There is no secret apart from the grace of God. Causing you to remain focused and when you are focussed in any calling, you tend to do it better as the years go by. Tenacity of purpose is also there, I must say. We have not wavered. We do not do any other thing apart from these TV programmes. To the glory of God we get better at it everyday, people are enjoying them and we are being encouraged everyday to generate more story ideas for their enjoyment.
PEFTI
This is the Pencil Film and Television Institute. PEFTI is a child of necessity if you ask me. As we were moving ahead in our programmes, we discovered that we didn't have enough trained manpower to edit, shoot, that is use the camera, even the actors. We didn't have many directors and most of those practitioners we have didn't have formal training. So there was need to set up a school. The closest of the schools were far away in Jos, The TV College or the National Film Institute.
There was need for a school, a very functional one to train and produce film makers. We were also moving on to a stage where we would be requiring the services of such people. The best way for us to solve that problem was to have our own school to guarantee us for the future. I think it is a child of necessity. But it was a very beautiful experiment, very successful. We have already turned out very many film professionals like editors, directors. Other establishment are already enjoying the existence of PEFTI, corporate bodies, advertising companies, TV Stations. It is at PEFTI you discover that Nigeria is a country with abundance of artistes and talent. When we want to do something, we do it fast too and that is one of the secrets of successful business. You are pragmatic, determined without procrastinations. But the time of conceiving and actualising ideas may take a little time. Some of the ideas we have embarked upon had taken over two years. We usually kept such ideas out of the eyes of the public until they have come to fruition.
Problem and challenges
Everyone knows that we are making the best of bad situations. Nigeria could not be said to be a film making nation but we are growing and improving the quality of productions. The infrastructure is not there. Low power, high cost of equipment etc. There are so many problems in the country.
The leap from print to electronics
I could say what inspired the leap from prints as Ikebe Super magazine, Super Story magazine to Papa Ajasco in television was 50% inspiration, 50% necessity. We were enjoying publishing, our readership were enjoying what we were publishing until the economy took a very very deep slump. Naira was devalued, everything shot up, cost of production went haywire and it affected publishing more than it did to the electronic so we swerved from publishing to television. I see us doing same thing basically.
Providing entertainment, in jokes and humour to all and sundry. To me this is more challenging more creative, more spectacular, more rewarding. But it is not cheaper. The cost of doing this is still high but if you have something great, sponsorship will come and back you up. We suffered a great deal at the beginning and when the sponsors saw the beauty of what we were doing, they came in and we are moving from level to level.
Riotous imagination
What was in my imagination when I was thinking about making Papa Ajasco in Ikebe Super Cartoon magazine was that I saw the need of making the magazine appeal to all segments of society so we decided to create a character for every age category. Boy Ajasco was to appeal to the children audience while the youth would identify with Boy Alinco and Miss Pepeye. Papa Ajasco and Mama Ajasco was a father and mother of about 40 yrs but with enough pranks for his wife to endure.
In my study of jokes, I have seen that even old people enjoy jokes. Some of them could be used to exhibit ignorance and naivety and it is humourous. So we decided to create the character Pa Jimoh and Pa James and in so doing, we have attracted the attention of every age group.
Metamorphosis
But these characters were created in December 1976. So when we had the opportunity of transforming these characters into real life on television, we went in search of those actors and characters who looked like them and could project. The first real Papa Ajasco cast came into existence in 1983 when we did our 16mm celluloid film. Peter Fatomilola was Papa Ajasco, Boy Alinco was Jimi Shodimu who is now late. Then in the late 90s when we wanted to do on TV for AIT, we did another casting to get new faces because the others were older.
Biodun Ayoyinka and Bayo Bankole came. The first Pa Jimoh (Pa James) was Aluwe in 1983. There was no Pa James then. It was created to balance the religious feeling. We did not want to present a moslem who did the silly things as Pa Jimoh alone. So we brought in late Chris Erakpotobo to do Pa Jimoh while Ajirebi played Pa James. But since Chris Erakpotobo died, we decided to let the character rest.
Dynamic business
This business is a dynamic one. You cast those who are relevant to your plan at that point in time. It is when soldiers go, soldiers come but the barracks is still there. Those who were working for government when we started they would be receiving pension now. Children who were born in 1976 are now 31 years. So it's only by being dynamic that you could still stand relevant in today's Nigeria. The characters have age brackets so we keep changing the characters as the years go by to accommodate the original dream..
Set up
We started as a one man business where I was generating the stories, drawing the cartoons, writing the stars, column, problem column and all on my dinning table but now there are other people doing that as business has expanded. Those days were very tough years. We now operate like a company. Without Adewale Adenuga Snr, business can go on very well. Scriptwriters, camera people, directors, production managers are here to run without me being there. I can afford to go on two years' leave because there are several scripts in our bank. We are working like a manufacturing system whose every one knows what to do now.
Great love for entertainment
The urge and desire to go into publishing was very very high in me because in my secondary school days at Ibadan City Academy, I discovered I had three major talents, music, fine arts and acting. In that school, I was the best actor, I was the best musician and I drew better than any other person when it came to fine art. I had a school band which toured the entire western states. At that level, I didn't know which one I would eventually do.
When I got to Kings College for my HSC, I continued to develop my musical talents Kings College boasted of the best pop group We had the Hotspots which had the Manuwa's, Ricky and Dayo, etc We had the best group from any school. In fact the members of the Hotspots played for Fela at a point in time. Kings College offered music at A level so all kinds of musicians were raised . I formed the juju group featuring some of these members. So wherever there was a show where the Hotspots were playing and were through with their repertoir, I took the stage to sing my juju and highlife numbers of Ebenezer Obey, Sunny Ade and a host of others.
Sometime we praised our teachers. So I had exhibited all my character at Kings College. Then when I went to University of Lagos in 1971, it was a turning point for me. What was reigning then was Campus magazines. Students had cartoon magazines which we used to bug other students. We were always on the look out to expose students who made cartoon news. So I was ready to join the fray to show the skills, I was made of. Within my six months on Campus , I was already Chief Cartoonist for three of such magazines. I am gifted in that. Let me say if I draw you in a cartoon, I don't need to put your name So I became an instant success as a cartoonist of Campus magazines.
My interest in cartooning came to the fore at the University of Lagos that I immediately knew when I got to part three that after my university days, I was going into publishing of this cartoon business which I then realised would do well when it leaves the campus setting. Before I took over I found out that the sale were low but when I took over, we started selling so much higher. This convinced me as I took it very spiritually that God would bless me in that area and He has done so over the years. It was not a surprise that during my youth corps days. I started collecting jokes and in 1976 January, I started the process and in December 1976, the first edition of Ikebe Super, Nigerians popular cartoon magazine came alive.
Business Administration,
yes, not art
In those days, your choice of study was informed by your performances in O'Level. I scored well in A'Level economics, mathematics and geography. What it qualified me to do then was Business Administration or Economics. I had to settle for Business Administration. More over I come from a very solid business background. My father who was a businessman wanted me to go into the business and take over the running. I got B.Sc, went to work with my father. And when other of my younger siblings also graduated, they came to give a helping hand so I moved on with my chosen area.
Business Admin
Studying business administration has helped me a lot. What I am doing is business but I am only employing my talents to do business. It is one thing to know how to do something and is a different thing to make money out of it. That is why you discover that even our best doctors, surgeons cannot run the smallest clinic. Performing surgery is a medical professional feat while running a small clinic is a managerial and business endeavour. It is different from surgery. It is the same way with what we are doing. I could draw the cartoon like many other people but now organising it to make money out of it is different game.
In this Lagos alone, there were over 50 cartoon magazines competing with Ikebe Super when it came out. To the glory of God, what helped me most apart from God's Grace, is the understanding of the rudiments of business, its ethics and all. My ability to write stories, draw cartoons, make people laugh, is different from the ability to make business out of it so that is where my business education comes in. That is why we want to encourage the youths of today to go to school and gain education before you branch into any profession. The university graduate will make a difference in fashion design, in many things because his horizon has been widened.
I went to the university between 1971– 1974; went for Youth Service 1975, joined the family business for about a year or two. I had started Ikebe Super while working with my father who was a distributor for Nigeria Tobacco Company at Ife. It was like a hobby selling the magazines around Ife and Ibadan. It was when it came to Lagos that it became explosive. After about six months of publishing, I resigned from my father's business to face mine seriously. I came to Lagos in 1978. I got married in 1975 after my youth service. My wife went to do her Masters at University of Ife while I moved to Lagos.
When she completed the master's programme, she now joined me in Lagos in 1980 or there about. You could see that she loves education and she is doing well with Binta International School. Remember there is what we call universality of business management. You studied business and you are able to manage a particular business well, you could apply the tenets to any form of business. My wife also studied business administration and has a master's degree in it. So she has employed the knowledge to run her own business of education. You could see that education business is very hard and intertwined. You deal with suppliers of books, uniforms, teachers, etc. You must be a business person to be able to manage a school. So you must balance everything between income and expenditure. You must have a balance sheet. You must have a deep sense of business knowledge to make a success out of this television production we are doing.
Papa Ajasco
I have a special love for Papa Ajasco character. I also have a big love for publishing and I think I would retire into publishing. Very soon a bumper cartoon magazine like Nigeria have never seen before is coming. I hope to retire into this.
Always on shorts
I have always said that when I make money, I would buy myself a trouser, so until I make money like you then I would begin to wear trousers and as you know, money has not come. But on a more serious note, one of the reasons of my shorts is that I am a free being, an artiste and every artiste is a spiritual person. You do things that please your spirit and as you know creativity is spiritual. To me it is a sign of freedom. Wearing of shorts( knickers) make me free and you need freedom to be creative.
Everything it takes
We thank God for Super Story because it went beyond our widest dreams and expectation. Our latest efforts Every thing it takes was informed by a special request by our sponsors to package the story of diligence towards stardom. Human beings do have dreams and they work through their dreams surmounting obstacles and all. We have done this with Everything it Takes. We want youths and all to watch it. You may have a dream and you are faced by obstacles. You must keep the dream alive. If you have faith in God and believe in yourself, you are in the path to success. Concurrently we are repackaging This Life and all things being equal, we would put it on NTA network in the next quarter.
Philosophy of life
This is to take life very easy. There are so much gragra. We in the human race see life as a rat race. You see the next person as a competitor. Life shouldn't be like that. Whatever you are doing is destined to compliment what others are doing. One needs to identify his destined programme on earth and do it well to the best of his or her ability. God doesn't give any assignment without backing it up with the factors of production. Don't rest on your oars.
Be your best at any time and all other things shall follow including money and other things. Place name and integrity above money because when you have toiled, only your name will put the money on your table because it has become a brand. A brand is a positive thing. If you become an armed robber, 419 kingpin, yahoo yahoo lord, it is not a brand. It has to be a positive brand for you to reap. For us, we have reached harvest season and may the good Lord give us long life.