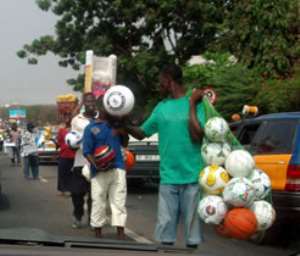 The menace of street hawking has been over-publicized many times but no solution has been found. The time has come for the phenomenon to be dealt with according to the law.
The various streets in Accra and other cities and towns in Ghana in particular are becoming too choked as a result of the activities of street hawkers.
Street hawking involves selling goods of any form along the street. Such hawkers sell any item one can think about. In addition to the hawkers, there are others on the streets who beg for alms to help them survive. They migrate to the cities to get involved in such businesses.
We must consider the possible hazards which can affect those who are involved in this act. Are they not infringing upon the law when they interfere with moving cars? Is it the hawker or the people who buy from them while in their private cars or passenger buses? After the hazards of the day's 'business', most the hawkers have nowhere to sleep at night.
This problem is riot limited to Ghana alone. It appears that Africa in particular is 'championing' the menace. The leaders of these countries seem to be doing little to eradicate the problem. Places which were meant for vehicles are now becoming trade centres. From Algeria to Zimbabwe, from Kenya to Senegal It is the same everywhere.
Children are left to loiter/wander about on the streets chasing cars to sell their items day-in and day-out. A national survey by The Ghana Statistical Service, ILO, and IPEC indicated that out of an estimated population of about 6.4 million children between the ages of five and seven, about 2.5 million are engaged in economic activities.
Many parents have given up the idea of assisting their children for the attainment of higher education-simply because they cannot afford the cost of education.
The hazards of street hawking especially for children are enormous. Apart from a few who may be able to get out of the situation and be prosperous, many of them may become prostitutes, armed robbers and some might face teenage pregnancy, defilement and abortions.
Teenage Pregnancy
Most often, the girls who are under age are defiled by the boys who sleep at the same place at night with them. These street hawkers sleep in slums or uncompleted buildings with the girls. Girls who do not agree to have sex with them are defiled one after the other and they have no one to report or complain to.
Those who sleep along the pedestrian lanes at night are also sometimes defiled by some street gangs. Can we as a society do something to save them while they are young.
Most of these defilement cases result in pregnancy. How do they cope with the pregnancy? There is nothing like going to the hospital for a medical advice since they even cannot afford the hospital bills. Most men who impregnate these girls do not accept the pregnancy because they can not virtually care for themselves let alone cater for a pregnancy. In most cases they do not know who really impregnated them.
Dr Akwegyir Aggrey of Ghana once said, "if you educate a man you educate one person, but if you educate a woman you educate a whole nation". A street hawker who becomes pregnant as a result of defilement may not be able to cater for that child well enough for the benefit of society.
Prostitution
Prostitutes are everywhere. Mostly some are in such a business with the intention of getting enough funds to support their children's education. Single parenthood or broken homes are too much on the increase and women especially are going too far to get money to support their families.
Most of these women graduate from street hawking into prostitution and they become professionals. Street hawking gradually leads to prostitution and the very leaders who are supposed to curtail the situation appear rather to be encouraging it.
If we fail to do something about street hawking, some of those hawkers will become pick pockets and graduate to armed robbers. They are capable of robbing and vandalizing houses and properties, bringing discomfort to society.
Accidents are unavoidable in street hawking. The accident may vary; it may be a car knocking down a hawker or the car dragging the hawker unknowingly. Most of these things happen when there is a traffic jam.
On most occasions you will see street hawkers among the cars when there is a heavy traffic jam. Some who forget they are in a traffic are sometimes knocked down by these cars. These unfortunate incidents occur every day but do we care or do the drivers who knock these hawkers down stop to even attend to them?
We have seen the hazards and consequences of street hawking and it is a wakeup call to the various governments of Africa and Ghana in particular.
In Ghana, people like Professor Agyeman Badu Akosa and other renowned personalities have expressed their views on the menace of street hawking, but the various governments seem to be doing nothing about the situation.
The United Nations Organization, African Union, International Monetary Fund, Human rights NGOs, International Women and Children Institutions, Parliament, Media and other institutions which have the interest in human rights should help in the fight against street hawking.
The earlier, the better. For Ghana to eliminate child labour by 2015, a year before the UNICEF deadline, street hawking must not be left out.
The future must be protected; who knows if a street hawker is a mother of our future UN Secretary General.