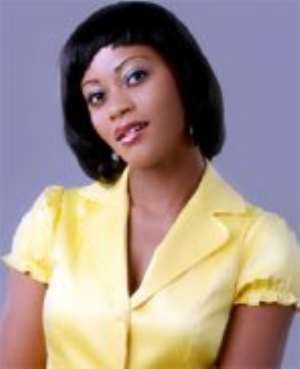 Damilola Adegbeti
Sparrow Productions has done it again with yet another movie, 6 Hours To Christmas that promises to be another block buster with Shirley Frimpong-Manso in the driving seat as the writer and director.
With the release of every movie namely, Life and Living It, Scorned, Perfect Picture, A Sting In A Tale, Checkmate and 6 Hours To Christmas, Shirley has moved a notch forward to set the standard for others to follow, leaving many movie enthusiasts satisfied and asking for more.
6 Hours To Christmas is a twisted comedy, very urban and can be described as a movie within one space with talented hunk Chris Attoh in the lead role as the suave creative director Reggie, who has been promised a slightly more memorable dinner and fireworks before the stroke of midnight on 24th December by his girlfriend Akos (Marian Lempogo).
However, things take an exciting turn for him when his office colleague and the girl he has the hots for, Pebbles played by Damilola Adegbite of Tinsel fame offers him a more sizzling Christmas present he finds impossible to refuse. He caves.
What follows is an avalanche of events, giving way to bizarre happenings that leave poor Reggie cursing his stars with a wish that if only he could turn back the hands of time to make everything right.
Acting came naturally to the cast and it was so excellent that one would easily assume that they are involved in a real life situation as they glide through their lines with ease. Chris plays it off so well in his role as a playboy who is cut for the game.
Shirley takes a risk with the new fresh and unassuming actress Marian Lempogo who stars as Chris' girlfriend in a natural blend of innocence and sheer beauty and what about Sena Tsikata of Things We Do For Love fame who plays Pebbles' flat mate born-again Christian? Well, make a date at the National Theatre on October 29 at 6:30 pm for the grand premiere.
"I wanted to use this movie to teach a lesson that one indiscretion on our part could lead to errors capable of ruining one's life forever. This whole idea came to mind when a friend passed by.
"He narrated how a simple error could have landed him in the grips of the law and ruined his life.
This movie is a Christmas movie and I chose that season because it is during that time that most of us are ready to let go of ourselves and indulge but if we could see the outcome of some of the decisions we take in the spur of the moment, we wouldn't dare", remarked Shirley after a media preview of her movie at the Silverbird Cinemas last Tuesday.