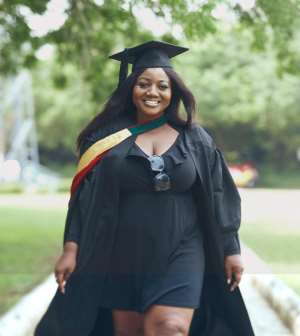 Sangmorkie Tetteh
Award-winning media personality, Sangmorkie Tetteh has bagged a Masters Degree in International Relations and Diplomacy from the Ghana Institute of Management and Public Administration (GIMPA). She was among hundreds of students who bowed out from the school at its 20th Congregation ceremony on Thursday. This year's graduation ceremony, which saw more than 1,000 graduates being awarded various certificates, was held in two folds due to the COVID-19 pandemic. The students graduated from the School of Technology, School of Public Service and Governance, School of Business School and Faculty of Law.
At the colourful ceremony, the Deputy News Editor of Accra-based TV Africa advised young ladies to always break the glass ceiling. She also hinted at plans to pursue greater academic feats.
"This is a big step in my bid towards pursuing a long-term career in the Academic world," She said.
Sangmorkie Tetteh also holds a Bachelor of Arts in Communication from the African University College of Communications and an LLB from Central University. She is a media consultant with over 10 years of experience in broadcast journalism ( TV, Radio and print). A consummate professional with a passion for Gender Advocacy. Her works span across various sectors including policy and research with top-ranking think-tanks in Ghana.