Why Ghanaians Should Rally Behind its Unsung Athlete Hero; Sean Safo-Antwi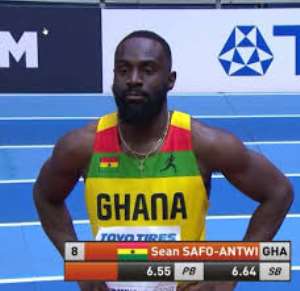 Apparently, a Ghanaian athlete competed for Ghana at the just ended IAAF World Indoor Championships Birmingham 2018 and most Ghanaians were unaware of it.
It was after the event ended that a handful are expressing disappointments at the way Safo –Antwi was not hyped nor supported during the competition.
Perhaps most Ghanainas were not privy to the competition or do not know about Safo-Antwi's exploits.
Now that his hard work and contribution towards Ghana is coming into the limelight, it is just prudent to find more about him and support his career in his quest to make Ghana proud.
Here are a few things you should now about him.
According to a Facebook user, Dj SiD GH who dedicated Ghana's independence day to celebrate him posted, Sean Safo-Antwi (born 31 January 1990) is a Ghanaian sprinter. He competed for Great Britain before switching allegiance to Ghana in early 2016, a move that was not opposed by the British Federation.
He was due to represent Ghana for the first time at the 2016 World Indoor Championships but was withdrawn at the last minute. In 2016 he represented Ghana in the 100 metres at the 2016 Summer Olympics in Rio de Janeiro, Brazil. This year's World Indoor Championships, Sean Safo-Antwi competed and qualified to the finals of the Men's 60m.
The Ghana Athletics Association commended Sean Safo-Antwi's efforts in the just-ended IAAF Indoor Athletics Championships in Birmingham, England, according to citifmonline.com
Safo-Antwi made the final of the men's 60m event but finished 7th in a race won by American, Christian Coleman.