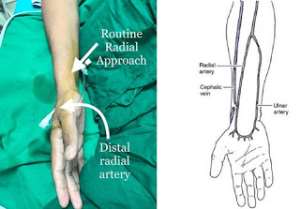 Now a days, only a few Cardiologist are using Distal Radial Artery technique for Angiography and Angioplasty treatment. This technique is recently introduced and needs more data for outcomes!
Dr Mayur Jain has already completed many procedures using distal radial artery approach and is finding the technique better for his patients!
There are many proposed advantages of this technique such as:
1) The Radial artery at forearm remains patent for future bypass surgery if required.
2) Less chances of bleeding and hematoma.
3) More comfort to the patient as pronation is a natural posture for the patient rather than extension at wrist which is required in routine radial angiography.
4) This approach may allow discharge after 2 hours of angiography rather than 3-4 hours after routine radial procedure and also earlier discharge after angioplasty.
For more information, visit: www.kushalcardiaccare.com