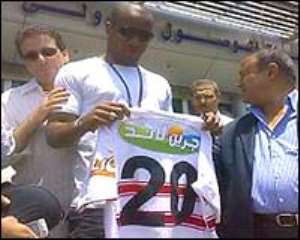 Agogo has been hit in the pocket Zamalek have fined striker their Ghanaian striker Junior Agogo $ 20,000 as a result of his improper conduct during the team's scoreless draw with Petrojet in the Egyptian League last week.
This comes after the Egyptian Football Association hit the striker with a three-match suspension and a US$4,000 fine for a rude gesture after last week's league clash.
Zamalek last week protested the ban but after watching the video of the incident they have also decided to punish Agogo for the gesture considereddeeply offensive in the Arab country.
According to Ahmed Refaat, the football director of the Cairo-based club, they had no option but to takeaction against the Ghana international.
"We admit that Agogo made a mistake, but we insist to get his suspension revoked," Refaat told Zamalek's official website.
"Imposing a fine is the appropriate punishment, but banning causes more problems for the club rather than for the misbehaved player."
The 29-year-old was caught on camera making an impolite gesture, but it hasn't been determined whom he was targeting.
The striker has struggled to settle at the club since his move from English side Nottingham Forest at the start of the season.
For more Ghana football news visit www.ghanasoccernet.com