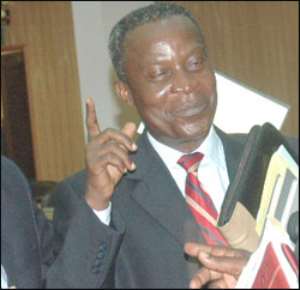 I start today's 'krataa' with wise lyrics from the song, "Life is so short" by Bernice Offei: "So you see, my brother, life is so short. It passes so quickly and a soul is gone. You only have one life to live on earth, so remember your creator while you have breath."
Death, we all know, is inevitable; yet we are most often shocked when it lays its icy hands on friends and loved ones. That was exactly how Asomdwekromanians felt when they heard the news of the demise of Asomdwekrom's Finance Minister, Baah Wiredu.
I was on my way to see my dentist that fateful Wednesday, when I heard the sad and shocking news on one of the 'akasanoma' stations. I couldn't believe my tympanic membrane when I first heard of the sudden departure of one of the most humble and affable politicians to grace the shores of Asomdwekrom. I thought I was in a dreamland and would wake up to be told it was just a dream.
Unfortunately, the news was as real as the forthcoming 'kokromoti' exercise on December 7.
Like many Asomdwekromanians, I couldn't help shedding tears because Asomdwekrom has lost somebody who could be referred to as a perfect gentleman. He was described by those who knew him very closely as hardworking, selfless, dedicated, down-to-earth, respectful, humble and affable. Frankly speaking, the late minister was much more than all the aforementioned adjectives. This is because he proved that one can disagree with political opponents without being rude and confrontational.
A perfect case in point was the way he responded to criticisms from the opposition during the debate on the proposed sale of Asomdwekrom Telecom (AT). Although the opposition was very antagonistic in its critique, never once was he heard responding in similar manner; proving that he was a very decent gentleman.
Ironically, my only encounter with Hon. Kwadwo Baah-Wiredu was when the late Hon. Hawa Yakubu, another Osono stalwart, unceremoniously joined her 'adikanfo'. Though our interaction was very brief, he left a lasting impression on my mind. His smile, humbleness, affability and decency held me spellbound. No wonder he was loved and respected by all. And such a person is gone for good at the tender age of 56? Life is very short indeed!
Abusuapanin, not too long ago, I heard a drunkard in Kubease say he preferred the death of the head pastor of the Kubease Healing Church to that of the palm-wine tapper.
His reason is obvious, isn't it? He preferred the pastor's death because he felt the palm-wine tapper was of more importance to him than the pastor.
In the same vein, I say; wish I had the power to control the elements that determine the tide of destiny, so I could exchange Hon. Baah-Wiredu's soul with hundreds of living souls whose wish is to see Asomdwekrom revert to the rule of 'patapaa'. Yes, you heard me right! I would gladly have done it if I had the power; but unfortunately, I don't.
I'm however glad to say I was very impressed at the eulogies, poetry and encomiums heaped on the departed soul of the late finance minister. But wouldn't it have been better if he had had the privilege of reading all these nice and beautiful encomiums?
That is why I'm urging 'menuanom' not to hesitate to give praise where it is due, and condemn negativities when the need be. We shouldn't wait for revolutionaries who have tortured and killed innocent citizens to kick the bucket before condemning their actions- that is, if we ever speak ill about the dead.
Politicians who claim to be peace-loving but delight in singing war songs should be told in the face that it is wrong, and not after they've joined their 'adikanfo'. So should 'konkonsafo' who collect thousands of American green leaves from coup makers to perpetrate falsehood not be spared.
Wofa, Hon. Baah-Wiredu's demise has brought home the fact that whatever one does, good or bad, is watched by Onyankopon and human beings alike. It also re-emphasized the fact that life is too short to toy with.
We should therefore not hesitate to make hay while the sun is shinning. Indeed, the tears of sorrow, moroseness and grim look on the faces of almost all citizens of Asomdwekrom attest to the fact that Baah-Wiredu lived a very fruitful and fulfilling life. My prayer is that he finds peace with his maker as he is laid to rest this weekend. I leave you with this:
Death, oh death!
You, once again, crossed our path
Showed your very true colours
Not afraid to cross borders
Proved you are very capricious and ruthless
Not caring whether one is righteous and selfless
You've taken our precious gem away
When we desperately wanted him to stay
Left us in a state of paralysis
Made it difficult for us to make any analysis
Death, oh death!
You, once again, crossed our path
If ever you were timeless
If ever you were needless
If ever you were senseless
It was now, no more and no less
You took our beloved too soon
Left us in tears and gloom
Though he was one of our best
We are consoled by the fact that he is having eternal rest
Death, oh death!
You, once again, crossed our path
ADIEU
BAAH- WIREDU!!
Source: Daily Guide