Year 2: Seven-Year Prayer Watch for Ghana's Oil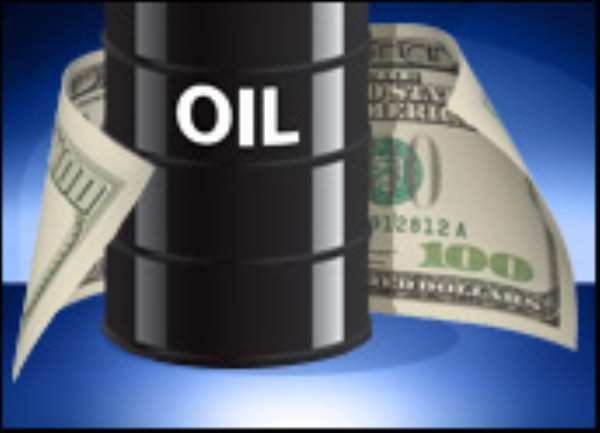 Year Two of The Seven-Year Prayer Watch for Ghana's Oil
July 1, 2007 – July 1, 2014
Beloved Saint,
This invitation to prayer comes to you in the full measure of the blessing of Christ on this 48th Republic Celebration of Ghana. Amen.
This is the second year of the Seven-Year Prayer Watch for Ghana's newfound resource—Black Gold. Oil drilling has been pushed forward to 2010 but we will keep praying till 2014, the date suggested earlier. Last years' invitation recapitulated God's message for our Jubilee Year.
"I am the Lord; that is my name! I will not give my glory to another or my praise to idols. See, the former things have taken place, and new things I declare; before they spring into being I announce them to you." (Isaiah 42: 8-9).
The Word of God is not idle—It is life. We will possess all our possessions as a nation if we walk by its light.
Creator of All Things is the name of the Lord. God hasn't stopped creating as Isaiah 48:6b-7 declares – "From now on I will tell you new things, of hidden things unknown to you. They are created now, and not long ago; you have not heard of them before today. So you cannot say, 'Yes, I knew of them' (emphasis mine).
God is saying that there are things He's creating now that couldn't have been prophesied about because nobody could have known about them, because He just decided to do them now!
Of miracles and the fulfillment of prophecy in Isaiah's day, when events showed the foolishness and weakness of the people's trust in idols, God said, "'From now on I will tell you of new things . . .. They are created now, and not long ago'" (Isaiah 48:6,7). Thus even in the first chapter of Genesis, the word create is used only of completely new and unprecedented acts of God…(the doctrine of creation; www.ag.org)
Yes, God can confound all human expectations! This is where we become relevant as intercessors, becoming shakers and movers and shapers, as we join the Creator through prayer in His breath-taking, mind-boggling purposes. As we stay in tune with the Spirit, God will hear our prayers and may decide to do unprecedented things in our country – like bringing to the forefront able leadership in the management of our newfound oil.
Yes, God carries out the words of his servants and fulfills the predictions of his messengers?
As I stated last year, I do again. We have seven years to pray. Seven represents completion in the Bible. What a beautiful revelation. Ghana's destiny is in your hands. Bring it to full completion!
Leaders of Churches, Community Fellowships and Para Church Groups: make the issues of the Seven Year Prayer Watch for Ghana's Oil below part of your weekly or monthly prayer meetings.
Individual Believers: incorporate the issues of the Prayer Watch below into your prayer charts. If you pray for Ghana on a particular day of the week, then add the issues below as part of your prayers for Ghana.
Families: make the issues of this Prayer Watch below part of your family devotional prayers. Pursuing spiritual disciplines with persevering consistency is always handsomely rewarded. Remember this!
You are encouraged to forward this notice to as many Ghanaian believers and all lovers of Ghana as well. Print out the prayer outline below and post on your fridge, office wall, or any place that can serve as a constant reminder.
Be part of the REMNANT God has chosen to accomplish His purposes in Ghana!!!
In Christ,
Flora Trebi-Ollennu
The Seven-Year Prayer for Ghana's Oil - 2007-2014
The Lord is exalted, for he dwells on high. He will fill Ghana with justice, and righteousness. He will be the sure foundation for our times, a rich store of salvation and wisdom and knowledge; the fear of the Lord is the key to this treasure (Isaiah 33:2). So we ask you great and powerful God that you pour from on high your spirit of justice, of righteousness, of salvation, of wisdom and knowledge, and the fear of the Lord on all those in government, political parties, traditional authorities, experts and ordinary Ghanaians who will be involved in the management of the forth coming oil industry in Ghana.
We prophesy into place competent experts to negotiate trade terms with foreign partners. May they not yield to manipulation and bribery to sign unfavourable contracts.
We prophesy that an acquisition of appropriate technology and knowledge to boost the oil industry in Ghana will be pursued and achieved by our government.
We declare that any evil agenda of external economic predators will fail completely.
We declare that good governance, strong and efficient institutions, transparency and accountability are becoming the norm in our nation.
We prophesy that the efficient management of our oil industry will positively transform the management of all other natural resources and all sectors of our economy as well.
We declare that the not-too-far buoyant Ghanaian economy will fire unprecedented ripples through the entire African economy, never witnessed before.
We declare that you, the Mighty God, are giving our experts who will be enlisted to manage this resource an inside scoop into Your immeasurable wisdom as to just the right kind of model to be adopted in running this oil industry, so it will become a success story.
We prophesy in the same Spirit that Elijah declared to the widow at Zarephath that the oil in Ghana's wells will not run out.
We prophesy that the discovery of oil will not divide Ghanaians but unite us. Each tribe, each person, will be like a shelter from the wind, and a refuge from the storm, like streams of water in the desert and the shadow of a great rock in a thirsty land. (Isaiah 32: 1-2)
We declare that we shall live in peaceful dwelling places, in secure homes, in undisturbed places of rest (Isaiah 33:20-24).
We declare that we will only ponder in our thoughts the former terror of corruption – "where is the one who took the revenue? Where is the officer in charge of the towers? We will see these arrogant people no more." (Isaiah 33:15-19)
We declare that an abundance of spoils (oil revenue) will be divided up fairly, and even the lame will carry off plunder; that is, the most insignificant Ghanaian will experience the blessings of oil in his/her everyday life (Isaiah 33: 23b – 24).
We declare that oil will bless Ghana
We declare that oil will unite all the tribes in Ghana
We declare that oil will bring out the best in our unskilled and skilled workers, professionals, experts, and bureaucrats.
We declare that oil will bring out the best in every Ghanaian's character.
We declare that oil will bring out the best in our politicians.
We declare that oil will bring out the best in every Christian.
We declare that oil will bring out the best in our government (national, regional and districts).
We ask all these in the powerful name of Christ Jesus
Happy 48th Republic Day
Continue to Bask in Blessings
In Christ
Flora Trebi-Ollennu
Samuel Abaidoo