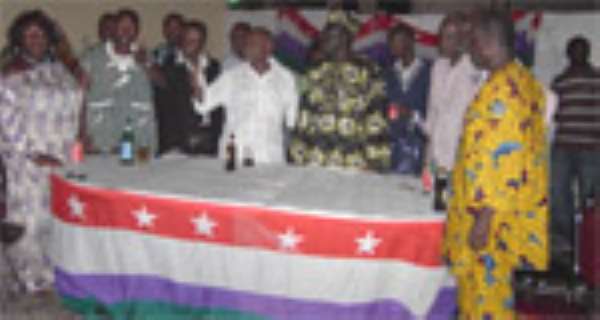 THE Democratic Freedom Party (DFP) has expressed gratitude to the media for what the party's leadership described as their support so far.
Ms. Frances Asiam, Vice National Chairperson of the party was in charge at the Lunch City Restaurant as she ensured that the invited journalists enjoyed the evening with sumptuous meals and beverages.
The party's flagbearer went round the various tables to interact with media personnel present after which he read a brief speech spelling out what his party would do when they come to power.
Mr. Ansah Asante Antwi, the party's presidential candidate, in his first meeting with the press since winning the DFP congress, promised to subsidize agriculture.
Subsidies, he stated, are productive, recalling the Malawi experience which he said had proved critics of the intervention wrong because of its success rate.
"When subsidies are applied properly, they can work," he said.
Although a brief speech, the flagbearer was able to give an insight into what the DFP manifesto looks like.
The DFP, he said, would kick against what he described as unbridled trade regulation in such areas like textiles and poultry production.
On good governance, he disclosed that the party, when voted into power, would involve chiefs whom he noted would be given the task of registering births and deaths.
As for the youth employment programme, he said the DFP would continue it with an improved version.
A DFP government, he said, would turn the country's trash to cash, as with flagbearer way of managing the bad sanitation problem in the country.
Under what sounds a revolution in waste management in the country, he indicated that a DFP government would encourage the separation of waste into biodegradable and that which is not, adding that alternative energy sources like wind would be pursued by a DFP administration.
He too thanked the media for supporting the DFP, but cautioned journalists to exercise maximum decorum and circumspection in their work.
Mr. Alfred Monney, Vice President of the Ghana Journalists' Association, expressed appreciation to the DFP for the reception, and assured them of the media's continued support.
Most of the leading personalities in the party like Nii Okaidja Adamafio, Mr. Kwaku Baah, National Chairman, Mr. Bede Ziedeng, General Secretary and others were present to share pleasantries with the media.
By A.R. Gomda