Former Footballers Should Have Been On Normalization Committee - C.K. Akunnor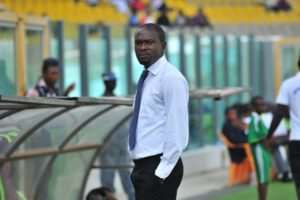 Former Dreams FC trainer, Charles Kwabla Akunor believes the normalization committee should have had an ex-footballer in there who could help in reforming Ghana football.
On Thursday, FIFA announced a normalization committee at the premises of the Ghana Football Association that will run Ghana football for the next six months on Thursday after the country's football hit crisis level.
The committee includes Dr Kofi Amoah a business mogul, Lucy Quist- former C.E.O of Airtel Ghana, Lawyer Duah Adonten and Naa Odofoley Nortey.
However, the former Black Stars skipper believes the committee could have been more complete if they had an ex-footballer in there.
"We could have been happy to see an ex-footballer in that committee," he told Zylofon Sports. "We have knowledgeable people and if they were in there it would have helped a lot," he added.
"We have Abedi Pele, Tony Baffoe, Sammy Kufuor, Augustine Arhinful and we would have been delighted to see any of them there so that in terms of decision affecting footballers, they would be there to help."
Meanwhile, the ex-Wolfsburg star was quick to add FIFA knows what they are doing and believes the people constituting the normalization committee have enough pedigree to return football to normalcy.
"They know what they are doing and we pray Ghana Football comes back soon."
"I think the people on the committee people of integrity so they will work and provide reforms that will be devoid of complications. I believe they understand the current situation and will provide us with the way forward."
"I understand there will be room for further additions, I hope they include an ex-footballer in the committee."