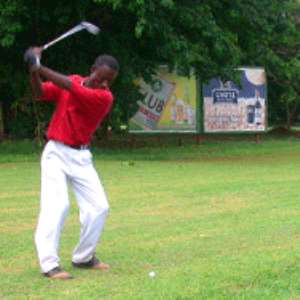 Accra, Sep. 10, GNA - Nicolo Catto returned 63 net to win this year's Ghana Telecom Invitational Golf Championship at the Achimota Golf Course in Accra on Saturday.
Catto who scored 35 net in the first round and 41 net in the second with a Handicap of 13 will now play to a new Handicap of nine. Sarfo Debrah took the second position when he beat D. Calagu on count-back after they had both returned 70 net, while Frank Etwi-Barimah placed fourth with 71 net by also beating Ron Pickings on count-back. 'Lady Scientific', Florence Etwi-Barimah, Ghana Senior's Golf champion won the Ladies event with 72 net with Elizabeth Koomson taking the second position with 73 net when she beat Yaa Safo Debrah and Ama Morgan on count-back while Margaret Owusu-Baah placed fifth with 75 net. The one-day 18-Hole Stableford competition attracted more than 100 amateur golfers from Achimota, Tema and Celebrity Golf Clubs. Mr Kwame Saarah-Mensah, Captain of the Achimota Golf Club said the Telecom sponsorship of the competition had come at a time when the Club was starved with sponsors.
He called on other corporate bodies to emulate the shining example of Ghana Telecom by offering sponsorship to the lesser-known sports.
Mr Dickson Oduro-Nyaning, Deputy Chief Executive of Ghana Telecom said the company sponsored the competition as its contribution to the development of the sport.
He said the company, as its corporate responsibility would continue to offer sponsorship to the event in the ensuing years.