World Kick Boxing Champion Alhassan Okoe Okine Mobbed By Sports Fans At Accra Airport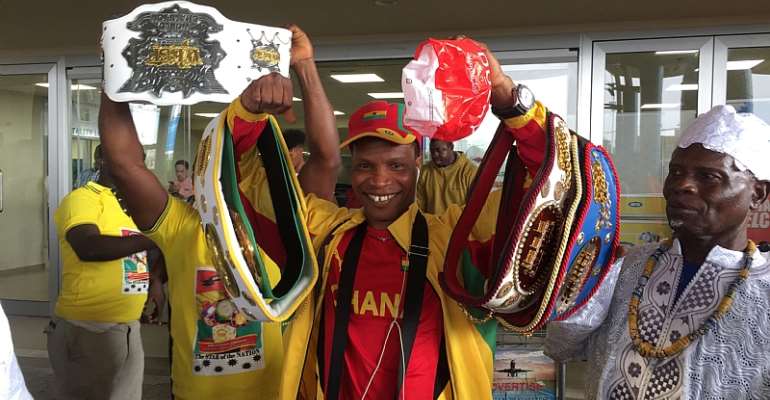 World Boxing Council (WBC) Muay Thai and World Boxing Federation (WKBF) Super Welterweight Champion, Alhassan Okoe Okine arrived home on Friday to meet a rousing welcome with sports fans singing, drumming and dancing to his achievements.
The 6 title belt holder said he was very happy with the reception and thanked the President and people of Ghana for their prayers and support.
He said he has come home to showcase what he achieved while struggling and hustling outside Ghana.
According to Okine, he has come at the right time to motivate the Ghana team, Pro Fighting Factory Gym Ghana (formerly called Power Zone) going for the African Championship in Morocco this month.
He said he came to inspire and motivate the team so that they can win medals.
He said he is also preparing to defend the WBKF title in Australia or Thailand and has promised to win.
He noted that his biggest challenge in Dubai where he is based is that nobody wants to fight him because he is too skilful and strong, so he trains people in martial arts and kickboxing.
He lamented over the lack of support for infrastructure and urged the government to put more money into sports development.
"Sports is the business now and I hope our leaders can see what is happening in the world of sports," she said.
Nii Adama Okine, father of Alhassan Okine thanked the people of Ghana and the media who have been supporting the least financed sports.
He said Alhassan has made him very proud and happy because he loves his son and he loves sports, so he put in everything to make his son succeed.
Sammy Heywood Okine, a senior sports Journalist and Communications Director of the Ghana Kick Boxing Association as well as online editor of the Ghana Olympic Committee (GOC) said the achievements of Alhassan Okine needs to be celebrated, as he has been fighting for the past 11 years in Asia, specifically in the United Arab Emirates (UAE).
He said great sports personalities like Alhassan Okine should be held in high esteem, recognised and honoured.
He congratulated the champion and advised him to train harder to defend his beautiful titles which include three world titles.
Former Chairman of the Greater Accra KickBoxing Association Nadem Hozafeh who was at the airport to welcome Okine noted that lack of support from the government has made interest in the sports gown down, but Okine promised to revive the sport of Kickboxing in Ghana and Africa.
Lawrence Nyanyo Nmai, skipper and lone financial of Ghana Kick Boxing said Okine has proved himself as a worthy hero and champion, which confirms that Ghanaian fighters cannot be beaten easily.
"I commend Alhassan Okine. We are tough and we are the best. We will never disgrace ourselves anywhere. We are going to Morocco to showcase that Ghana is not only good at football, but boxing and kickboxing as well," he said.