Veteran Black Stars Coach Cum Otto Pfister Assistant Receives Rains Of Applauds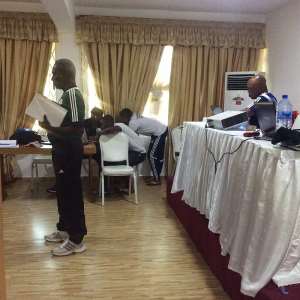 Legendary former Black Stars, Black Queens as well as Black Satellites coach Mr. Anthony Edusei has been applauded by Ayinbire Norbert Elegant (CEO of EleSports Management and Scouting), a young coach kum sports pundit who also works as an Administrative Assistant in University for Development Studies, Tamale.
He has expressed amusement and delight in the ubiquitous intelligence level of the veteran coach with regards to his understanding of the Principles and Practice of the modern game and the Role of the 21st century coach in sports
In an interview with Radio Windy Bay 98.3 Mhz in Winneba, the Astute young Sports Administrator who is resilient towards the new trends and developments in the game, couldn't hide his displeasure with the low level of enthusiasm, lack of commitment and impatience of the new crop of coaches towards player talent development. He stated that there was the need for coaches to show readiness and give utmost importance to the Ethics and methodology of the game and profession.
He further stressed on the need for the Ghana Football Association as well as club managers to concentrate on the recruitment of coaches with Standard qualifications with a strong drive or motive to succeed in the game as a profession and not only a place for hobbies.
In conclusion Mr. Ayinbire Norbert Elegant, professed that "Hardwork and Commitment excels above talent if talented or gifted Coaches and players fail to work hard enough" by citing the achievements of Cristiano Aveiro Ronaldo as a vivid example of total Hardwork.
Coach Antony Edusei who started his sports career in the 1950s is still very active in the game of football and currently remains one of the Finest Trainer of Trainers (Instructors) in Ghana and the continent Africa as he Currently acts as CAF Coaching License Instructor at all levels from introductory to License "A".