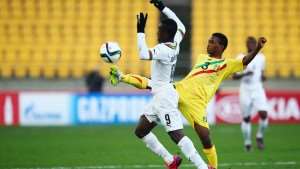 Small crowds watcch matches in New Zealand U20 World Cup
Small crowds look to be affecting the under-20 World Cup in New Zealand as just 2,235 fans turned up to watch Mali hammer Ghana 3-0 to eliminate the Black Satellites at the round of 16 stage of the competition.
This shows that by the round of 16 stage of the competition, the New Zealand fans continued to struggle to embrace the tournament.
A 118th-minute own goal by Hungary defender Attila Talaber handed Serbia a 2-1 victory and moved them to the quarter-finals of the under-20 World Cup on Wednesday, as New Zealand fans continued to struggle to embrace the tournament.
Talaber's error was made even more distressing for the Hungarians as Serbia's Ivan Saponjic had only equalised in the first minute of added time at the end of the game to send it into extra time.
The result provoked an outpouring of emotion from his team mates and the small but vocal group of Serbian supporters, with the side making their first appearance at the tournament as an independent country.
A rampant Mali produced a superb passing game as they hammered 2009 champions Ghana 3-0 in front of a sparse crowd in cold and wet conditions in Wellington in their round of 16 clash.
The United States play Colombia in Wellington, while Ukraine face Senegal in Auckland in the later matches.
With the June 20 final at North Harbour Stadium in Auckland already declared a sell-out, organisers had been hoping the start of the knockout phase would push them closer to an 'aspirational' target of 500,000 fans attending matches.
The game at Dunedin's indoor stadium attracted 5,149 spectators, while only 2,235 turned up for the early game at Wellington Regional Stadium between Mali and Ghana.
Cold, wet weather has affected the crowds at all of the games in Wellington, with official FIFA statistics for the Austria-Panama group match on June 2 putting it at 2,009, the smallest crowd at the 35,000-capacity venue.
Local organising committee head Dave Beeche had earlier told Reuters that poor weather was always a factor in ticket sales in New Zealand's capital, no matter what sport was played at Wellington Regional Stadium.
Beeche had hoped to achieve an 'aspirational target' of about 500,000 fans through the gates for the 52 games at the seven venues in the rugby-mad country.