Sheyi revelations part 2: Adebayor reveals brother stole £25,000 necklace, Zidane signed jersey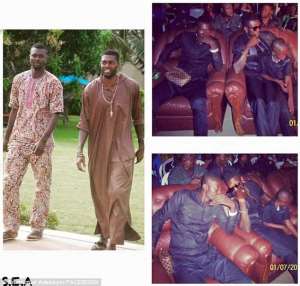 Emmanuel Adebayor has accused younger brother Rotimi of stealing a shirt given to him by the late Marc-Vivien Foe, a signed jersey that belonged to Real Madrid legend Zinedine Zidane and a £25,000 Cartier necklace the Tottenham striker had bought for his mother. 
In a follow-up to 'part one' of a statement he released on Facebook last week - where he claimed Rotimi had taken 21 mobile phones from a French football academy he had got him a place in - Adebayor has delivered on his promise that there was much more to come.
The Togo international has now posted an incredible 1,041-word instalment, this time focusing on his younger brother who he says repeatedly stole from him.
Adebayor, who left his homeland to join Metz as a teenager in 1999, claims his sibling had a master key in his house and 'frequently' stole items from a storage room, as well as taking and selling football boots he intended to give to people in Africa.
The 31-year-old also says Rotimi is responsible for changing his relationship with good friend Jacques Songo'o after stealing a PlayStation Portable from the retired Cameroonian footballer's son.
In another incredibly personal story shared on social media, Adebayor details his relationship with his brother, who he says 'did something very bad' at the age of 13 and had to move away from his family in Lome.
The former Arsenal forward, who made his first appearance for Spurs in just under two months last weekend, says that once he started to become successful in football he decided to bring Rotimi back to the city and put him in a school after hearing he was 'suffering'.
The necklace he says Rotimi took from him was worth around £25,000, according to Adebayor.
Adebayor says he moved on from many of the supposed thefts as 'blood is thicker and water' but that he was sharing the information on Sunday as 'every story comes with a lesson'.
His last post, released last Tuesday, claimed he was not allowed to see his late sibling Peter when he was 'seriously ill' and was instead told by his mother to 'just give money'.
He says he sent brother Kola money to fly back for Peter's funeral, but he never attended, as well as claiming his sister rented out a $1.2million house in Ghana he had bought her without him knowing.
Anthony Rotimi Adebayor was offered a chance at the Metz football academy by his older brother, according to Emmanuel, and was accused of stealing 21 mobile phones from his team-mates.
Rotimi is said to have argued that he did not take that much but Emmanuel says he asked him why he had taken drinks and other items from his home, to which he replied 'because I am your brother'.
Rotimi, now 24, who was most recently on the cards of Belgian second division side Boussu Dour Borinage in 2012 and has had trials at Real Vallodolid, was then bought first-class tickets to Dubai by the Premier League ace for another chance in football but left after four days as it was a strictly Muslim place and he 'couldn't drink, party as much as he wanted or kiss girls in public'.
Adebayor recently met up with Chelsea striker Didier Drogba to discuss his problems.
He felt the need to go on Peace FM back in November to refute claims made by his sister Maggie that he had had kicked his own mother out of his house.
His sister Margaret claimed during an hour-long interview with Peace FM that the reason behind his decision was because he thought his mother was a witch, to which Adebayor said: 'I never sacked my mum from the house. She decided to leave the house.
'How am I going to be in touch with my mum if my mum is the one telling everyone that my work will not go forward, so I will just be on my side and do my thing.
'They should stop talking, they should stop doing Juju on me, they should leave me alone.
'I bought a $1.2m house in East Legon for the one talking and calling herself my sister. Can you imagine that sister went to rent the house without my knowledge?'
It remains unclear whom he was directing his request for people to 'stop doing Juju on him' at.
Adebayor says part three of the family revelations will be coming soon, and it will be about 'the man that calls himself the father of the family @Kola Adebayor'.
Credit: Daily Mail
Credit: Daily Mail