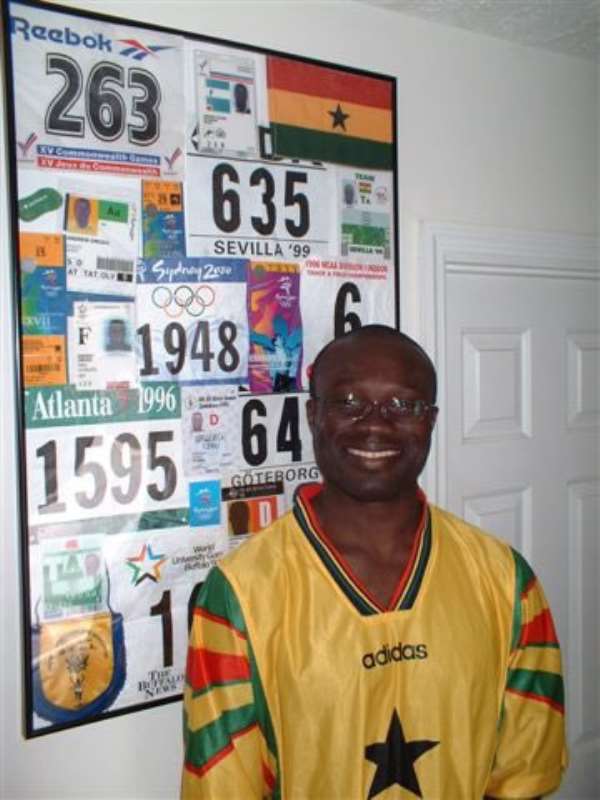 Andrew Owusu's ticket to success always lay in athletics.
His athletic ability carried the Ghana native to the University of Alabama and a national championship in the long jump as well as numerous competitions around the world. The athletic ticket helped Owusu add another title to his lengthy resume when he recently earned a doctorate from Middle Tennessee State University.
Owusu will punch the ticket one last time as he begins competition Friday at 1:55 a.m. in the triple jump at the Olympics.
"Athletics was a launching pad in terms of education for me," Owusu said by phone from Athens. "We love our sports in Ghana, but it's not integrated into the schools like it is in America. If I was still in Ghana, I probably wouldn't have gotten this far."
Owusu is one of 52 athletes separated in two qualifying pools attempting to reach Sunday's medal round. Only 12 will qualify for the final.
It's Owusu's third Olympics for Ghana, which is situated in West Africa. He participated in the long jump in 1996 at the Atlanta Olympics and triple jump in Sydney in 2000, when he finished 14th.
He missed the opening ceremonies in Athens to attend his graduation at Middle Tennessee. He left for Athens the following day.
The grueling teaching and studying schedule during the past few years left little time to train for the 32-year-old athlete, but he's satisfied with his conditioning and likes his chances.
"I think I've done well under difficult circumstances and I definitely have a chance to make the final," Owusu said. "I feel good and I've put in a lot of work. I'm a little bit nervous, which is good because it makes me focus on the fundamentals."
Alabama offered Owusu a track scholarship in 1991 and he won the NCAA indoor long jump title in 1996 on his last college jump. He finished second in long jump competition at the 1995 outdoor championships.
Owusu earned his bachelor's degree in biology at Alabama and a master's degree from Wayne State College in Nebraska. He started his doctoral program in health, physical education, recreation and safety at Middle Tennessee in 1999, continuing competition all the while.
He won his first gold medal in the triple jump at the 1998 African Championships and repeated the feat at the 1999 All-African Games. He picked up another gold medal in the 2000 African Championships and has also won three silver medals during the years.
He participated in the 1995 World Championships and reached the final of both the 1997 and 2003 World Championships.
Owusu knows he faces a stiff challenge in Athens.
"The first thing I have to do is make the final," he said. "A lot of times, you focus on the end result and don't make it past qualifying. If I make the final, then I'll go for a medal."
Regardless of the outcome, Owusu will retire with a career spawned by his athletic ability.
"For me to do this one last time with friends I've known for years is very exciting, but it's time for me to move on with my life," Owusu said. "I may not end up with an Olympic medal, but how many people have made it to this level? I've achieved a lot of things along the way."