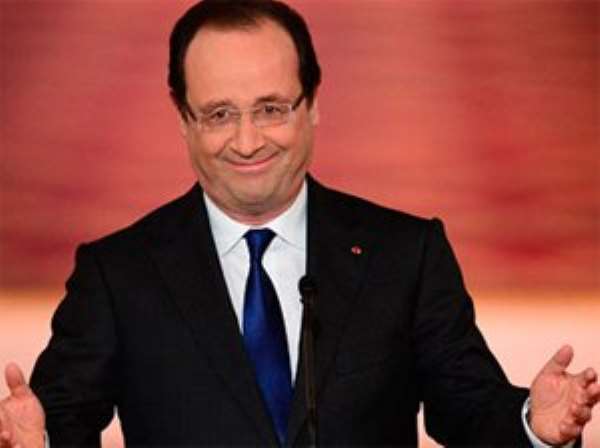 Francois Hollande
The French government is considering scaling back its controversial 75% rate of tax on high-earners, which Ligue 1 clubs claim will cripple the sport in the country.
President Francois Hollande declared he would tax all revenue over €1million at 75% during his election campaign, but the measure is yet to be put in place, with stiff resistance coming from France's biggest clubs, who would have to foot the bill.
The move would affect 1,500 people in France, including around 100 footballers mostly from Paris Saint-Germain, Marseille, Lyon and Lille, who have argued such a tax would scare big-name players away from the French top-flight.
However, Le Parisien reports Hollande's ministers are reconsidering their position on the matter, with talks reportedly being held to limit the amount employers would have to pay as a result of the tax to a percentage of their overall revenue. The paper claims French Football League (LFP) representatives are arguing that the ceiling be placed at 2-3%, which would save PSG, for example, some €30 million and OM and OL around €10 million on their original tax bill.
"We're waiting for the conclusions of the study group, but it's true that there are football clubs whose equilibrium is fragile," Economics Minister Pierre Moscovici told RMC, though he denied suggestions football would receive special treatment.
"It will be a general measure. It's not possible to just make a rule for football clubs."
A vehement opponent of Hollande's proposal, LFP president Frederic Thiriez welcomed the softening of the government's stance but remained circumspect as to the final outcome.
Thiriez said: "I think the work we have been fully committed to has borne fruit. The government has understood there is a problem. That's the positive side of things. But as long as there is no definitive position from the government, I will remain extremely cautious."
Monaco, who have been told they must be based in France for tax purposes or face expulsion from the league by the end of the season, would no doubt also welcome a change to Hollande's original policy.