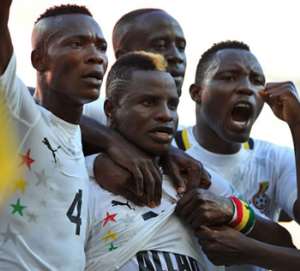 http://www.dailyguideghana.com/wp-content/uploads/2013/01/black_stars2.jpg Ghana inched closer to realizing their 5th silverware dream when they defeated Cape Verde 2-0 to qualify for the semi-final of the ongoing Nations Cup in South Africa last Saturday.
They will face Burkina Faso on Wednesday to fight for a place in the final.
Substitute Mubarak Wakaso scored twice to bring Ghana closer to the grand finale.
His double put him in contention for the top-scorer award having scored thrice in separate games despite losing his side's last group game.
And it reversed what would have been a shocker on an afternoon that the Cape Verdeans had demonstrated sheer tactical discipline.
The Blue Sharks pressured the more after Mubarak's opener from the spot, after skipper Asamoah Gyan had been fouled in the box in  the opening stages of the second half.
The pressure intensified midway in the second half till the latter stages until Mubarak pounced on a rebound from a corner when goalkeeper Josimar Dias had joined the entire team in attack in search for the crucial equalizer.
He took his time to place the ball behind the net for his personal second despite the hot chase from opponents.
Indeed, the late goal calmed the nerves of thousands of Ghanaian and South African supporters who hitherto had sat on tenterhooks.
Mubarak raced to the more anxious Stars' bench in celebration but the Blue Sharks surprisingly did not appear disappointed after the final whistle. They simply held hands, jumped in unison and later exchanged jerseys with Kwesi Appiah's men.
Ghana's goal stopper Fataw Dauda, who sat at the post-match press conference, said he had not arrived yet, though he pulled some spectacular saves, but for which the tables would have turned on the afternoon.
His brilliance earned him praise not only from the stands but from his colleagues who gave him a kingly ride after the game.
It was a scrappy first half which saw the Stars barely surging forward, confirming the match's statistics as Cape Verde recorded as many as seven shots at goal as against the Black Stars' two.
The Stars moved yesterday to Nelspruit to play the winner of the Burkina-Togo game for the semis on Wednesday.
From Kofi Owusu Aduonum, Port Elizabeth