Streets empty after Nigeria church blasts, riots kill 52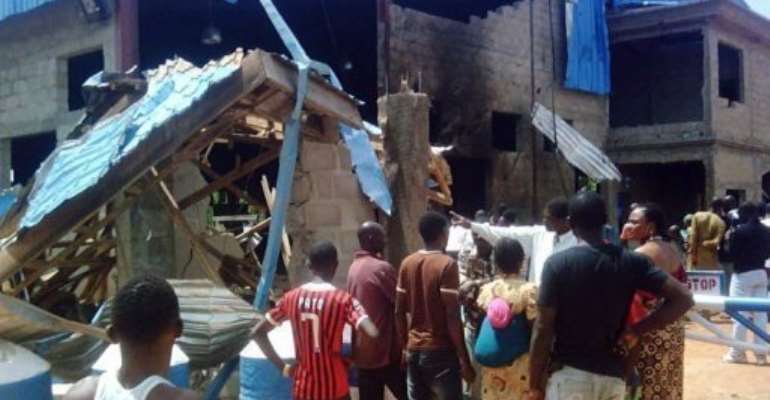 KADUNA, Nigeria (AFP) - The streets of Nigeria's Kaduna city were mostly empty Monday a day after suicide blasts on three churches carried out by Boko Haram Islamists and subsequent rioting killed at least 52 people.
Banks and offices were shut while rescuers combed through streets looking for the bodies of those killed by armed Christian mobs that targeted Muslims after the blasts at churches in Kaduna city and the nearby city of Zaria.
Boko Haram, responsible for more than 1,000 deaths since July 2009, said the church blasts "were reprisals for the many atrocities Christians perpetrated against Muslims," in an email from purported group spokesman Abul Qaqa.
Suicide bombers attacked two churches in the city of Zaria and one in the city of Kaduna, killing at least 16 people, police spokesman Frank Mba said in a statement.
After news of the Sunday bombings spread, Christian rioters took to the main highway that leads to the capital Abuja, attacking motorists who looked Muslim.
Armed Christian mobs also prowled the streets of Kaduna city, torching mosques, petrol stations, dozens of vehicles and shops, said an AFP reporter who toured Kaduna city with a military patrol on Monday.
"As of the last count we have 52 dead bodies picked up from the affected areas. We have more than 150 injured," said a senior rescue official who asked to not be named as he was not authorised to issue death tolls.
"Most of the victims were those killed in reprisal attacks. We are still doing mopping up exercises," he added.
Following presidential elections last year, Kaduna state saw rioting that left more than 500 people, mostly Muslims, dead.
Police termed the latest riots "a momentary breakdown of law and order" in a statement, and announced a state-wide 24-hour curfew that remained in place Monday.
State government spokesman Saidu Adamu said education officials held a meeting to discuss rescheduling end-of-term secondary school examinations.
"Students are likely to miss their exams if the curfew is not lifted," he said.
While banks and shops were closed as troops patrolled the vacant streets, the lock-down did not apply to doctors and nurses, who were allowed to work Monday, Adamu further explained.
"Many of (the injured) need surgery, but a shortage of blood is stalling treatment," a Red Cross official in Kaduna said.
The first blast struck ECWA Goodnews Church in the Wusasa area of Zaria city early Sunday. The second explosion went off 10 minutes later at the Christ the King Catholic church in Zaria's Sabongari area, a police statement said.
The third blast hit the Shalom Church in Kaduna city moments later.
A worshipper said he saw a bomber drive an explosives-packed car into the church building.
"Right away the car exploded and killed a soldier and two private security guards guarding the church," Joseph Emmanuel told AFP.
Among the victims targeted by the Christian mobs that formed after the blasts were Muslim motorcycle taxi drivers parked near churches and cobblers that typically repair the shoes of the area's churchgoers, a Red Cross official said.
"Allah has given us victory in the attacks we launched against churches in (the cities of) Kaduna and Zaria which resulted in the deaths of many Christians and security personnel," said the Boko Haram statement.
As their insurgency has intensified, Boko Haram's stated demands and grievances have varied widely, prompting speculation that the group is composed of disparate cells, including a hardcore Islamist wing.
The extremists have previously said they intended to create an Islamic state across the mainly Muslim of northern part of Nigeria, Africa's most populous nation of 160 million, where the south is majority Christian.
In their latest statement, they denied "a rumour" that their objective is to destroy northern Nigeria and indicated they wanted to restore the Islamic state that once existed there and was "destroyed" by British colonialists.