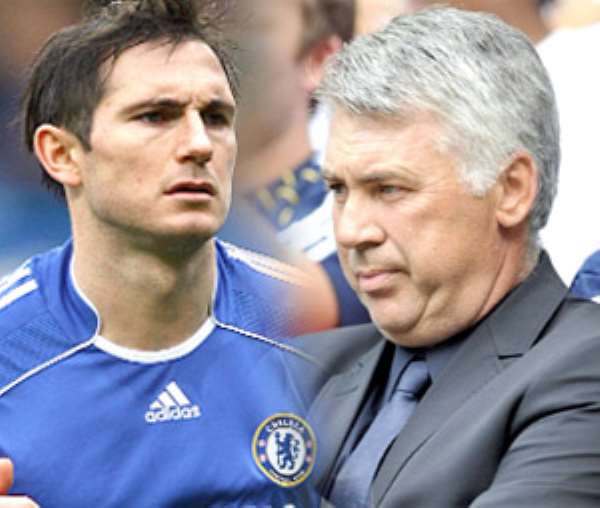 Frank Lampard ans Carlo Ancelotti
Chelsea manager Carlo Ancelotti has laughed off Frank Lampard's claim that the climate at the club is akin to the last days of Luis Felipe Scolari's reign.
England midfielder Lampard had claimed that the recent series of poor results had eroded the players' confidence, likening the atmosphere to the final days of the tenure of Scolari, who was dismissed in February 2009 after less than eight months on the job, following a run that saw them take 17 points from 12 league games.
"At the moment, there's a bit of a feeling that we're not sure what's going to happen when we go out there," he said.
"The end of Scolari's reign was a bit like this. You lose the feeling of being able to win every week.
"Once you've had that and lose it, it's hard to get it back."
But Ancelotti disagreed, saying, "Maybe it's the same atmosphere, but we have the capacity to move on. I support the players and they support me."
He added: "I don't know the feeling with Scolari, but the feeling here with the players is very good."
Ancelotti has come under increasing pressure, with his team's form tailing off badly after they made a flying start to the season.
Ancelotti continues to enjoy the backing of the club's billionaire benefactor, Roman Abramovich, who he spoke to on the telephone this week and who is expected to attend the home game with Blackburn on Saturday.
Ancelotti admitted Abramovich was "not happy" with recent results but that their exchange had been "positive", giving the Italian the confidence to dismiss Lampard's claims.