Parliament Hosts Black Stars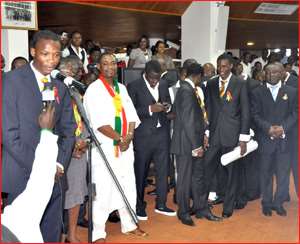 Parliament yesterday hosted the senior national team, the Black Stars, after their heroics in the on-going 2010 FIFA World Cup in South Africa.
Dressed in suit, like Parliamentarians, the Stars were given a tumultuous welcome on the Floor of the House as the Speaker of Parliament, Rt. Hon. Justice Joyce Bamford-Addo introduced them one after the other to members of the August House. Shouts of Yeeyee! Yeeyee! greeted the Stars when they waved to acknowledge the cheers.
The gallant Black Stars who were in Parliament at the invitation of the Speaker, failed to qualify for the semi-final when they were controversially eliminated from the ongoing Mundial at the quarterfinal stage.
Welcoming them, Rt. Hon Bamford-Addo praised the team for winning the hearts and minds of millions across the world.
She indicated that the performance of the team at the World Cup should be a source of pride to not only Ghanaians, but Africans in general. "On behalf of Parliament, I say Ayeekoo for a job well done," she said.
Minister of Youth and Sports, Akua Sena-Dansua thanked President Mills for his personal support which had contributed greatly to the Stars' performance, adding that the team's impressive showing had been acknowledged both home and abroad.
Accusing Olegario Benquerenca of Portugal for the Stars' failure in the World Cup, the Sector Minister said but for the referee, who turned a blind eye to the goal scored at the last minute, Ghana would have been in the semi-finals.
She therefore urged the Stars to continue to make Ghana proud in future matches.
The Majority Leader, Cletus Avoka acknowledged the achievements of the Black Stars and urged them to consolidate the gains by ensuring they qualify for the 2014 World Cup.
Giving them a fatherly advice, Mr Avoka reminded them that they achieved that feat as a result of hard work and discipline; therefore they should avoid complacency and continue to sustain the discipline.
He prayed that God would guide and protect them against injury so as to enable them make Mother Ghana proud.
Reciting a poem to register his joy for the Black Stars' courageous performance, the Majority Leader, Osei Kyei-Mensah-Bonsu expressed gratitude to all Ghanaians for their powerful prayers for the team.
The Stars, he observed, exhibited a sense of unity of purpose and discipline during the match, believing that with unity, cohesion and discipline the sky will be their limit.
"We are proud of you and thank you for your efforts", he added.
By Sheilla Sackey