Olympic Bell Beckons For Women's Boxing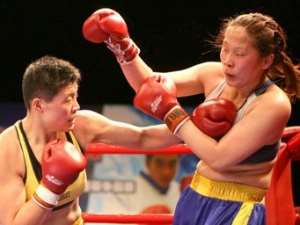 Woman boxer
Frankie Dunn, Clint Eastwood's character in Million Dollar Baby, has a quick answer every time Hilary Swank's Maggie Fitzgerald asks him to train her to box: "I don't train girls."
This dismissal is delivered in a 60-day growl that does nothing to hide his distaste for the idea of women's boxing.
For five minutes last week I felt something similar myself.
I had just walked into the Amateur Boxing Association of England's (ABAE) 2009 Women's Championships and two young fighters were in the ring, slugging it out, in front of a vociferous crowd.
I sat close to the action and watched, and winced, as these two threw flurries of punches at each other.
One boxer was clearly more experienced than the other and while she punched in straight lines, her smaller opponent punched in wide arcs. The latter was probably the better athlete but her geometry was a disaster.
In truth, it wasn't a great fight and that troubled me for a few reasons.
I had to come to the Boxing Manchester Centre of Excellence to see if women's boxing was ready for inclusion in the Olympics, if it was "developed" enough to warrant such status.
Mediocre boxing, whatever the gender, isn't pretty, but this was a bout for a national title - it should have been better.
The issue of quality, and how far down it goes, is essential to female boxing's case.
The International Olympic Committee (IOC) looked at it in 2005 and decided the strength in depth - what it calls a sport's "universality" - wasn't there.
Irish world champion Katie Taylor (right) would be a strong contender for gold in 2012 if women's boxing is approved.
But the latest smoke signals from Lausanne suggest the IOC believes those concerns over easy medals and/or dangerous mismatches no longer exist.
In a remarkably unguarded interview, IOC boss Jacques Rogge effectively sounded the bell for the first Olympic women's boxing competition.
"Conditions are totally different now. The timing is right, because the sport has evolved a lot," said Rogge last month.
But during those first few minutes in Manchester. I had my doubts.
There was nothing wrong with the boxers' fitness or footwork but they were ragged in defence. And every time they took a punch they went to pieces: a sure sign of a novice.
Having admired the textbook techniques of female athletes in almost every sport under the sun, I was surprised to see pugilism's defensive skills, the sport's basics, so unevenly displayed.
But - and it's a big but - as the contest came to its conclusion, my misgivings were receding, and when the bell rang for the final time the boxers embraced with broad smiles across their unmarked faces.
I was getting over the shock of seeing women hitting each other and was starting to realise women's boxing is different to men's boxing in the same way women's tennis is different to men's tennis.
Not worse, just different.
The next bout, a much closer affair between two boxers with sound techniques, reinforced my growing belief that I was watching potential Olympians.
And by the time Natasha Jones took on Alana Murphy for the 64kg title, I was convinced.
The final score was 17-1 to the 24-year-old Jones, which suggests Murphy was humiliated.
She wasn't. She was just given a lesson by an opponent a few fractions of a second quicker...but then fractions of a second are eternities in elite sport.
Jones' next contest will be at the EU Championships in Bulgaria later this month, and having won two silver medals at the event already the Scouser is tipped to strike gold this time.
But whatever she achieves over the next three years it will pale in comparison to what she may accomplish in London. If women's boxing gets the nod from the IOC, Jones can be a Team GB star in 2012. Remember the name.
That announcement is expected on August 13 at a meeting of the IOC's executive board in Berlin, although it is rumoured the call will be made a couple of weeks before.
My guess is that it will be a hard decision to keep quiet so we may hear something sooner than the 13th.
What is more certain is that the International Boxing Association (AIBA), the sport's international governing body, has presented a compelling case.
Mindful of IOC concerns about the size of the Games, the AIBA has proposed giving up one of the 11 men's weight categories - the light flyweight class - to make room for five women's divisions of eight boxers each.
There were 286 boxers in Beijing but the AIBA is confident this number will not be exceeded in London even with the addition of 40 women. Expect tougher qualification criteria for the more popular men's divisions.
The other potential deal-breaker for the IOC was the overall medal count and the prospect of dishing out bronze medals to female boxers who win their first fight but then lose their second.
Boxing - like judo, taekwondo and wrestling - dishes out bronze medals to both beaten semi-finalists.
This means 44 medals were awarded in Beijing, a number that would rise to 60 if five women's events are added to 10 men's events.
The AIBA has hinted it would bring in a third v fourth bout to keep the tally to 45 but it is no longer certain the IOC will insist upon this.
The fact that boxing's bosses were willing to put the extra bronze medal on the table was perhaps all the IOC needed to hear.
IOC president Jacques Rogge (a trained surgeon) wants to add women's boxing to the Olympic programme.
Rogge's feelings on the matter seem clear and women's boxing has already received public backing from Olympics Minister Tessa Jowell and private support from the organisers of the London games.
As the only sport in the summer programme not to have a women's competition - and the IOC under pressure to address the unequal number of medals available to men and women - there is seemingly unstoppable momentum behind women's boxing.
I say seemingly because there is, of course, one enormous grey thing, with big floppy ears and a long trunk, clomping around the room and it's the same thick-skinned beast that came to the fore in million dollar baby.
In that film - and it is just a film - Frankie's initial fears about women's boxing are proved correct when Maggie is left on life support after a particularly brutal (and ridiculously officiated) bout.
But acknowledging the elephant in the room is one thing, letting it knock the house down is another.
Amateur/Olympic boxing and its professional big brother are almost different sports.
The head guards and heavy gloves the amateurs wear not only reduce the potential for harm, they also dictate different tactics - some pros dismiss amateur boxing as "fencing with gloves".
Points win prizes in the amateur game and those points are scored by punches to the head or midriff, not the chest, so scare stories about breast injuries for female boxers appear unfounded.
As do the more general scare stories about non-professional boxing.
There has been plenty of research on the dangers of repeated blows to the head in professional boxing but it is very hard to find much of a case against amateur boxing (something Rogge, a surgeon by trade, will know well).
It is also difficult to maintain the line that boxing is inherently "unladylike".
With the number of fighters seeking entry to the English championships up on last year by 50 per cent, it seems ladies are making their own judgements about what is and what isn't behaviour befitting a lady these days.
I've already written that I thought women's boxing would get the nod for 2012.
But it was just a guess then, based more on a suspicion that Olympic bosses would need a bargaining chip to get boxing to agree to a move from the Olympic Park to Wembley.
But having seen women box, I can now say with certainty that the very best of them deserve to take their place alongside the very best cyclists, rowers and sailors.
After all, if judo, taekwondo, wrestling and, dare I say, dangerous sports like three-day eventing are OK, why not boxing?