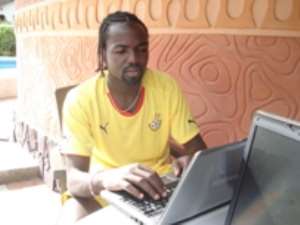 Tagoe is live right now on Ghanasoccernet Ghanasoccernet is LIVE at the Black Stars camp and top striker Prince Tagoe will be chating live with fans ahead of Saturday's crucial World Cup qualifier against Lesotho in Sekondi. Please send in your questions to Saudi-based forward now at :
From Yaw Amoateng in Accra, Ghana: Tagoe what promise can you make for Ghanaians as far as Saturday's game is concerned?
Tagoe: I want to assure Ghanaians that we will win the game tomorrow and qualify for the next round of the WOrld Cup qualifiers. What we need as the Black Stars the prayers from Ghanaians for God to help us by giving us the strength and wisdom to win the game.
From Samson Amartey, Labadi, Ghana: Do you think the Black Stars have prepared well for this game?
Tagoe: We have prepared too well for this game because we know what is at stake for the country and our fans all the world. Most of us arrived well in time for the game even though most of us ply our trade in far away places.
From Kwame Otinpong, USA. : Do you think you will start in tomorrow game?
Tagoe: That is up to the coach to decide who starts. If I am given the opportunity to start for the country I am ready to serve the team to help to get an emphatic win. If not I am ready to give my support to any person given the person to ensure the win.
From Kenny: The Black Stars seems to have very difficult times beating our so called weak opponents, (e.g. Zimbabwe, Namibia and recently Lesotho). Do you (players) lack motivation and concentration against such teams?
Tagoe: There are no easy teams in Africa these days in Africa because of the rapid development of football in the continent. The fact that we have previously classed these teams as minnows led to shocks so we are not underrating any country and we will not underrate Lesotho. We are going all out for a win and will treat them like any other big side in Africa. We have the motivation and that is to win this game massively and and go to the second round. We want to return to the World Cup.
From Kenny again: You have been playing in the Gulf for some time now, why haven't you or your agent been able to find you a more competitive club in Europe?
Tagoe: I have got only seven months left on my contract with El Ettifaq and it would be good for me to decide on my future after my contract runs out so that I can consider these offers effectively. By that my personal terms would be much better.
Godfred Bondzie,Tema: What is the mood in camp like? Do we have some half fit players in camp?
Tagoe: There are no half-fit players in camp and the spirit is very high. We are relaxing at this moment with Capito Appiah and Jonathan Quartey are playing table tennis to relax. The other are also taking it easy not to get tensed up before the game. We will train in the evening. We need your prayers.
David Shama Junior: Prince, how many foreign based players have arrived so far to face this Lesotho team?
Tagoe: Everybody is in camp apart from Moussa Narry. But his absence will not affect the team as everybody is prepared to serve the country so there are many players who are ready to serve in his absence. We are all ready. I miss Narry because he is my room-mate when are on national team duties. But everybody is ready to die for Ghana.
Asamoah Boateng, Finland: Do you think we can win the game convincinly?
Tagoe: In football you can never say that you will beat any team. We have to respect our opponents and prepare very well. We pray to God that we have a good day so that we can beat them convincingly.
From Abii 10: How is the moral in camp like and which players are there to fight for the nation? we are solidly behind you.
For more Ghana football news visit www.ghanasoccernet.com