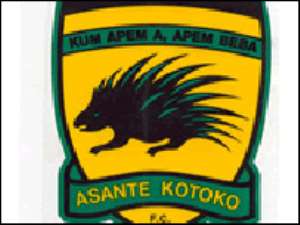 Kotoko fans are accused of violence Ghana 's giants Asante Kotoko are facing a lengthy ban from continental competition after fans of the club physically assaulted Africa 's top referee Coffie Codjia on Saturday during a Confederation Cup game in Kumasi .
Tunisian side Etoile du Sahel and their players are also unlikely to be spared by the disciplinary chiefs of the Confederation of African Football (Caf) as they were also involved in the ugly scenes during the 2-2.
Codjia is expected to write in his match match report that he was assaulted by fans of Kotoko on his way to the dressing room at the end of the emotionally-charged game.
Codjia, who is from Benin and among Fifa's top referees, was decked out in Red Cross regalia to outwit irate fans of Kotoko, who had laid siege at the exit of the Baba Yara Stadium.
Yet the fans were not fooled as they identified the referees in the Red Cross bus and chased them into a nearby restaurant before gun-wielding military personnel intervened to whisk match officials to safety.
Caf has refused to comment on the violence during and after the game but says it will take action after Codjia and the match commissioner have presented their reports.
Caf has in recent times revamped its disciplinary unit along with the reforms have come lengthy bans for clubs, players and fans who are involved in violent acts during continental matches.
Etoile players are also reported to have attacked the referee after he awarded a penalty to the home side and their actions are likely to be reported by the referee.
Kotoko fans claimed that the referee was too soft on the Tunisian who resorted to theatrics to get the match in their favour.
The result all but ended Kotoko's chance of reaching the final of the competition as the away draw seems to have bolstered Etoile's chances of advancing to the final with only one group match left.
For more Ghana football news visit www.ghanasoccernet.com