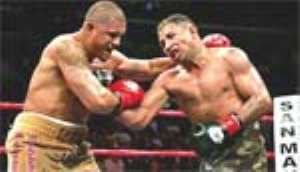 Although former world welterweight and super welterweight champion, Ricardo Mayorga won the WBC's Continental Americas super middleweight championship with his victory over Fernando Vargas, "El Matador" says he has no intention of staying in the 168lb division.
"In February I'm going to start working to go down to 147lbs," he said. "I'm coming after Cotto and I'm coming after Mayweather and I want to show the world that I'm the champion of the 147lb division."
In his best performance in years, Ricardo "El Matador" Mayorga (28-6-1, 22 KOs) sent "Ferocious" Fernando Vargas (26-5, 22 KOs) into retirement with a twelve round majority decision on Friday night at STAPLES Center in Los Angeles.
Mayorga tried to bum-rush Vargas early and was clearly winning the round when he dropped Vargas at the end of round one. Mayorga wobbled Vargas again in round two. Vargas was cut over the right eye as both fighters landed big shots in the third.
Vargas seemed to be coming on in the fourth round as Mayorga's aggressions became less frequent. Mayorga had a big round seven, but Vargas came back in the eighth.
More good two-way action until Mayorga dropped Vargas again at the end of the eleventh. Round twelve was close.
Scores were 114-112, 115-111 Mayorga, 113-113.
Vargas stood firm in his resolve to hang up the gloves, telling his fans thank you. "You guys loved me with all your heart and I love you from the bottom of my heart," he said.
Promoter Don King watched the fight via satellite hookup in the company of U.S. troops stationed in Iraq. King secretly flew from Frankfurt to Kuwait and then on to an undisclosed location in Iraq as part of a USO morale boosting mission.
On the same bill, Puerto Rico's Kermit Cintron retained his IBF welterweight crown by stopping American Jesse Feliciano but broke his right hand in doing so.
Cintron said he broke his hand on the first punch he landed at the start of the fight but did not show any signs of pain until moments after a flurry that prompted referee Jon Schorle to halt the fight 1:53 into the 10th round. Fightnews